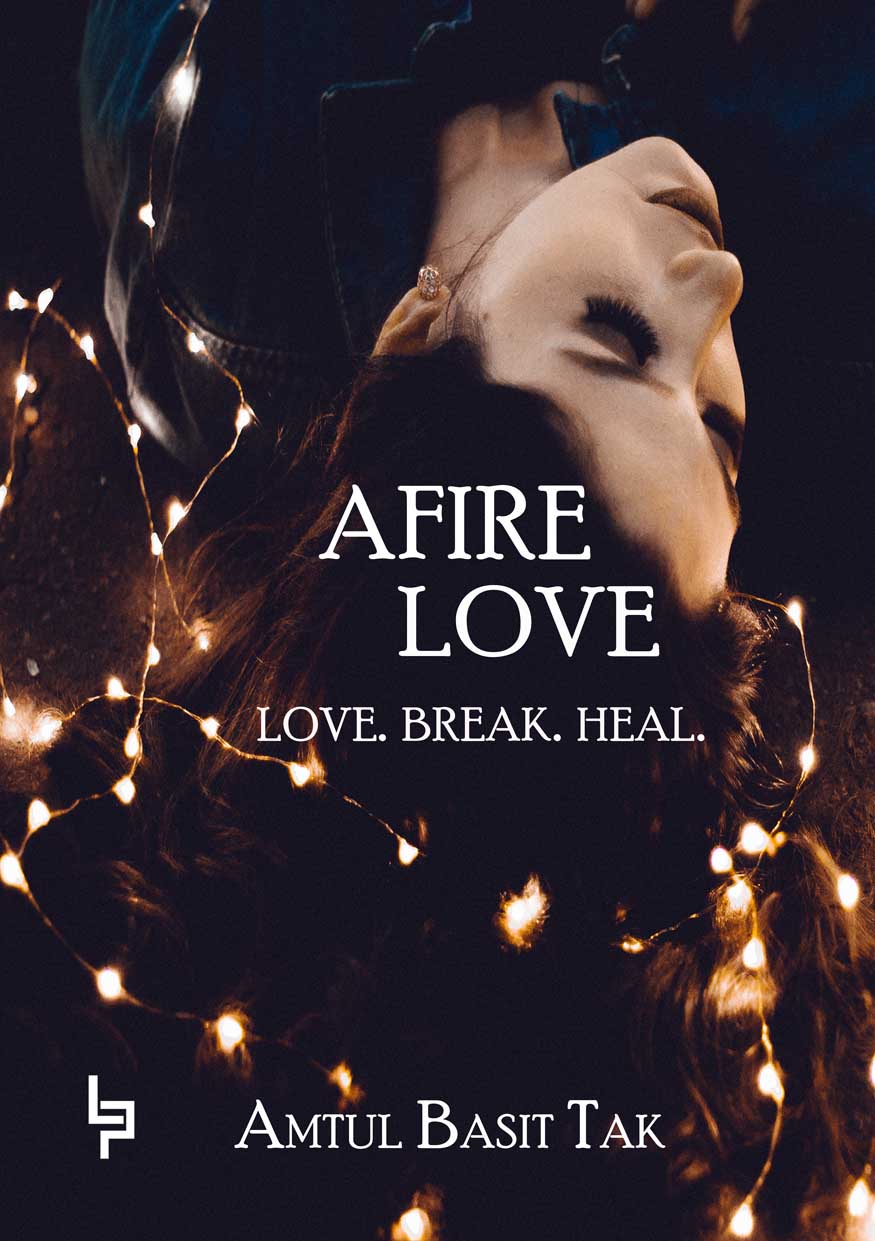 Afire love (Love. Break. Heal)
Amtul Basit
Poetry
About the book
Never the billions of stars But your eyes made me feel infinite.
---
Details
Publisher
Lieper Publication Saliha Verified Buyer
I really liked the book and the way the author has presented the concept of love. I think it really comes from the heart and it actually touched mine. I am truly mesmerized after reading this and it is really worth a permanent spot in one's heart... These words made their own permanent home in my heart and it feels beautiful. This book is a sweetheart and definitely the author also. Mehraan Verified Buyer
There are so many writers and poets out there, but it's amtul and her mesmerising words which force us to think and feel like it has all happened or is happening to us...this feeling is so rare...I love this book. It's so magical. I pray for your prosperity and may all your dreams come true just like this did. And may you be happy for the rest of your life. And make your parents feel proud. Ameen. Zainab Verified Buyer
Hello there Amtul. Today is one of my best days in life. You know why? Because I just finished reading your book. I'm in love with love because of your poetry. Amtul, I cried hours after finishing this amazing book and I realised you changed me into an empath. I wanted to finish the book but I didn't want to finish the book. Amtul, congratulations, I enjoyed every moment I spent with your poetry. And I'm really happy for you. Rahat Nargis Verified Buyer
This book is just incredible. My favourite book and always will be. I can feel each and every word written in it. It's like the author is narrating it to me. The author of this book has the power to heal people with her words. This is the bestest book I have read so far. Just amazing! Incredible use of each and every word. I would like to see more books from this incredibly talented writer. This book has my heart. Umair Shah Verified Buyer
I have read a lot of books. Each being ultimate in its own way. But this book is what we call a "Masterpiece". This book clearly bespeaks the fact that the future of literature is in safe hands. The book takes you to a world which only becomes more and more beautiful as you turn the pages. The lines infuse a feeling such eternal that we become incontrovertible to wonder about the calibre of the author. The poetic freak Verified Buyer
A must read book for poetry lovers. This book gives us a perspective of what real literature is. Imrana Verified Buyer
What a wonderful book! It is truly a bundle of love, as said by the poet herself. This is something you will not expect from a 17 year old youngster. It is full of emotions, straight from the depths of the heart. Loved reading this so, so, so much. Looking forward to read more stuff by her. ♥️ Nimraa Verified Buyer
It is an incredible book. I love its concept. This book is just amazing. Mateeba Akram Verified Buyer
This book has got everything. It has got the whole world inside its pages. While reading this book your heart will feel the sweetness and the gentleness of the heart of this young poet. I've got no more words to describe the beauty of this book. This book is everything forever❤ Lani Verified Buyer
I read it three times and still can't get enough of this book. I'm addicted to these words. She should write more books💓 Rehaan Wani Verified Buyer
Probably the best book I have ever read in my life, very very beautiful words, Really a true class shown by the author❤ Ata Ul Munim Verified Buyer
You won't stop till you read the last line of the book. Mesmerising account of love in the cloak of innocence! Would like to read more from the author! Aliya Farooq Verified Buyer
It's really one of the most incredible books I've ever read. This book has my heart. The "moonlight proposal" hit me hard Cause when I read it I thought I'm the people in the book. My favourite book forever♥️ Basit Shafi Verified Buyer
It is simply marvellous. This book has reflected what real love is. Someone said this statement but I want to repeat it, "if poets like Shakespeare and all love poets would be alive, they would definitely think about this and put their hands together for this masterpiece" Mx Aju Verified Buyer
This is the most inspirational and motivational book I've ever read. I just don't know how to describe the book. It touches each and everybody's life...purely raw and natural. The more you read the book, the more you want to know about love. You will start imagining yourself with the one you love while reading this. This book is an addiction. Grab your copy. ~H Verified Buyer
Really emotional and touching book. It has the power to make you cry and simultaneously heal you in the most beautiful manner. Loved every word. Keep it up. Aqsa Verified Buyer
I just finished reading this book. And I loved it. While reading the book, be it the love part, break or heal, I felt like I'm just living in those moments. This is one of the most amazing books I have ever read after "I too had a lovestory" Junaid Verified Buyer
I'm in love with this book. It is a magnificent piece which depicts real love. I recommend everyone to buy this book. You will surely fall in love♥️ Faiqa Aiman Verified Buyer
I don't know if I'm ever going to get over this book. Afire love is a perfect representation of love that comes from the deepest parts of a soul. The love for one heart personified for the entire universe. From the stars to paper rings, this book covers the most beautiful and the cruel parts of love depicted in the most innocent and the loveliest way. I'm enthralled by the imagination of this girl and at the same time thankful to her for taking me through galaxies from the pages of this book. I'm so in love with this. Amtul Basit Tak is a spaceship for those who don't have wings. Bless you. And keep inspiring us. Much love♥️ Minha Asif Verified Buyer
Amtul Basit... I don't have words for this book. It made me cry and....Sorry. I am,... I don't know what to say. You are my favourite poet. I love you and I am a huge fan♥️ Maha Sharma Verified Buyer
My soul loves this book😍. Amazingly written😍🤗
Afire love (Love. Break. Heal)