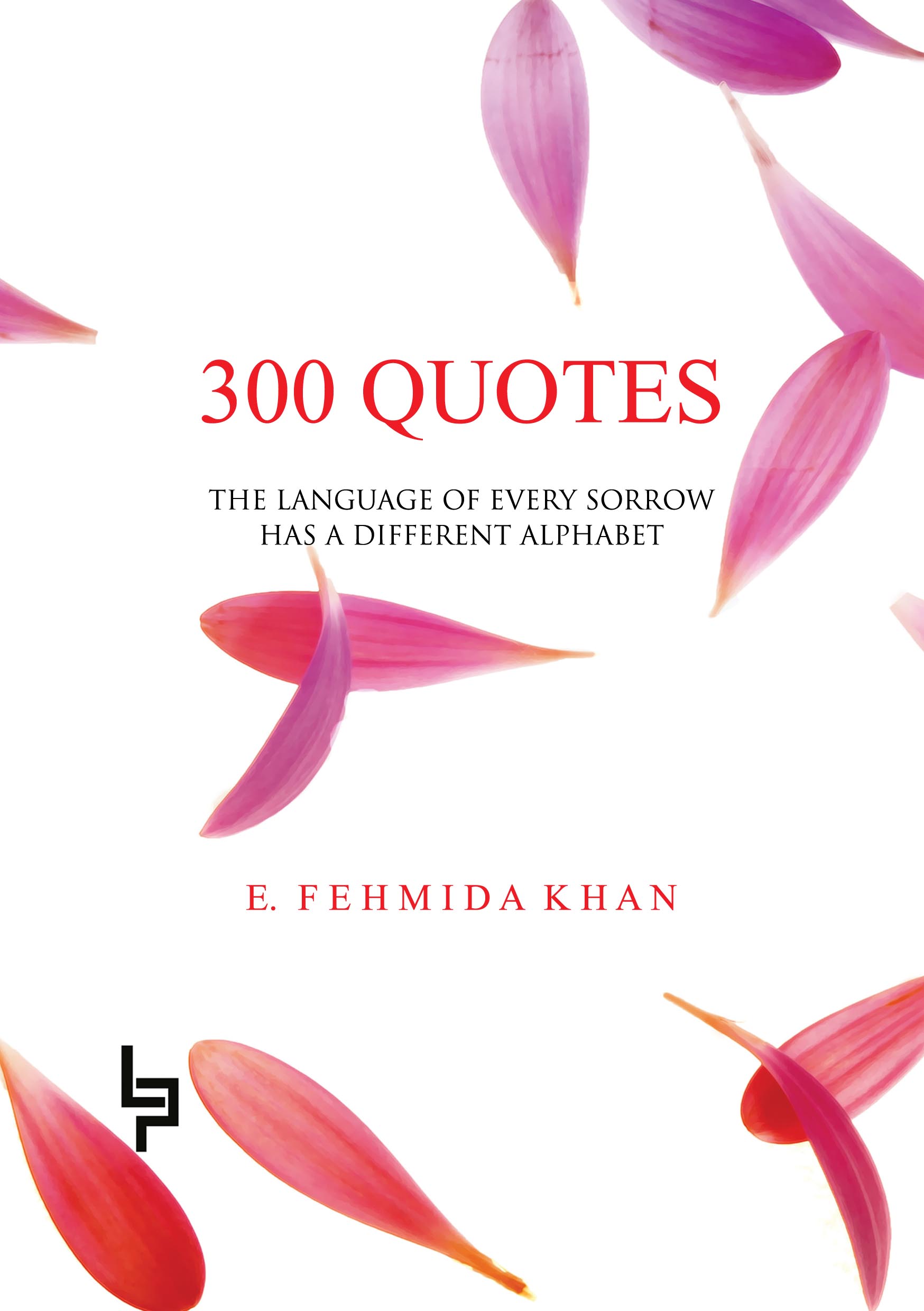 300 Quotes (the language of every sorrow has a different alphabet)
E. Fehmida Khan
Quotes
About the book
'Life is what you make it,' someone wisely said and yet we make so much out of things that should be left untouched. This book of quotes is a foray into things that should be done in order to walk the path intended and the routes that eventually take you there. There are also lessons, and there is no particular group at which it is aimed at. These are words written from the heart and I hope they connect with yours.
---
Details
Publisher
Lieper Publication Shweta Shina Ray Verified Buyer
Since reading is my escape, i added this book '300 Quotes' to my collection.It has beautifully written quotes about Life , trust , people and positivity. It teaches you not to sacrifice your dreams.It conveys how faith is unseen but holding on to it makes things better.Author beautifully gives you a message how diverted truth is more dangerous than a direct lie. Nighat Akhtar Verified Buyer
An astonishing book which gives inspiration and encouragement.I bought this book few days back & it gave me a deep understanding of life.Every quote will teach you more than the previous quote and you will be eager to move ahead . It will surely give you a new energy to move on in life . Great work by the author!! Eye opener!! Highly recommended!!! Tahreema Rehman Verified Buyer
Just finished reading this book. It has an amazing collection of uplifting quotes that will ease the souls of those who read it & gives readers a fresh outlook on life. These beautifully written quotes by the author speakes volumes about life & you are gonna learn many life lessons out of it . Lovely quotes! awesome book! Anush Verified Buyer
you can read so many poems in just one go. you wont regret reading this Tanzeela Verified Buyer
I can't be enough thankful to my friend who suggested me this book. It's not just an intresting book but a book with you can connect emotionally. You better grab this one asap. Akhwand Sajid Majeed khan Verified Buyer
Whenever Allah selects some one for some special purpose, first of all thy provides her all required resources..wisdom & atmosphere to explore her ablity & to flourish her worth in required field. I am honoured by E.Fahmeeda Khan, a renowed writer of the book named 300 quotations in english. Although I do not consider myself able enough to comment of these type of books, however I was bound to do so.. When I started to read the book, I was really impressed to note the strength, depth of thoughts & wisdom of the quotations. I have gone through the entire book repeatedly & found that some spiritual power is behind this book which motivated her to produce a highly peculiar & precious book of wisdom which can better communicate, convert and educate the people to be good citizens and thankful creatures and hence a good human beings. One thing of this book is more appreciate able is that E. Fahmeeda khan has alloted a full page to every quotation which hence is related to a new fresh thoughtful wisdom .and needs full concentration to understand it. To me this book of wisdom provides a foundation of nice character, and gives an insight into the fragrance of the author's soulful personality. Zia Khan Verified Buyer
This book is perhaps the most important and insightful book on investing, and an eternal knowledge of quotes. Reader Verified Buyer
May I take this opportunity to extend my gratitude, you sent me Book 300 Quotes, written by you and published by Lieper Publication relates to the principles of Muhammad(PBUH) very good for people, who have sense. First of all, it is with the deepest sense of gratitude to the Almighty Allah who has given you courage and spirit for writing. This Book is a treasury of whom pracitce in the probationary period of life. May Allah Almighty shower the choicest of His blessings and praises on all those who have taken part in the production of this book. And so now, I take leave for the readers, and pray for the spiritual advancement, as I wish the readers also pray for my parents and family. In the end, we prayed before the Lord of the worlds! Guide us to His straight path, give us tolerance, patience, good life in this world . Reader Verified Buyer
I am grateful to you for sending me your book 300 Quotes written by yourself. I have reviewed this book. I am sure you must have taken lot of burden on yourself in composing, arranging and publishing this book. My appreciation to your daughter who encouraged you to publish your work. I have gone thru the book twice to select the best possible quote that I should identify but I failed to do so as the entire work of 300 quotes are equally excellent. I was unable to select one and degrade others. However, just to meet your stated desire I should be quoting the one I like under the current atmosphere. I appreciate the entire work, very well written and should remain guideline for most of us. Thank you for sharing this book with me. If a person who cannot run his own home, is running a country, it means his family members are intelligent than his countrymen. Paula Shene (New York) Verified Buyer
I review only what grabs me reading to the end and wanting more. This book is unique in that most of the pages have few lines. It is a book to reread and to add your lines because the quotes resonance, triggering memories some good, some bad, weave needed closures for some. A beautiful read. Ayaz Khan Verified Buyer
I read all the quotes.. it's not only quotes .. it's essence of life.. U describe your experiences in very decent way.. it's like ocean in the pot.. it's really a treasure. All u describe r the reality of life and everyone less or more face it but keen observers like u can explain.. it's an appreciated effort.. May Allah bless you with his countless blessings.. Aameen. Sherya Seth Verified Buyer
Learnt so much from this book. Kudos to the Author for writing such interesting book. Madiha Inayat Verified Buyer
It is not just a book, its a treasure. Once should read it. BEAUTIFUL. Mehreen Zia Verified Buyer
This book literally made me cry. Loved it.
300 Quotes (the language of every sorrow has a different alphabet)