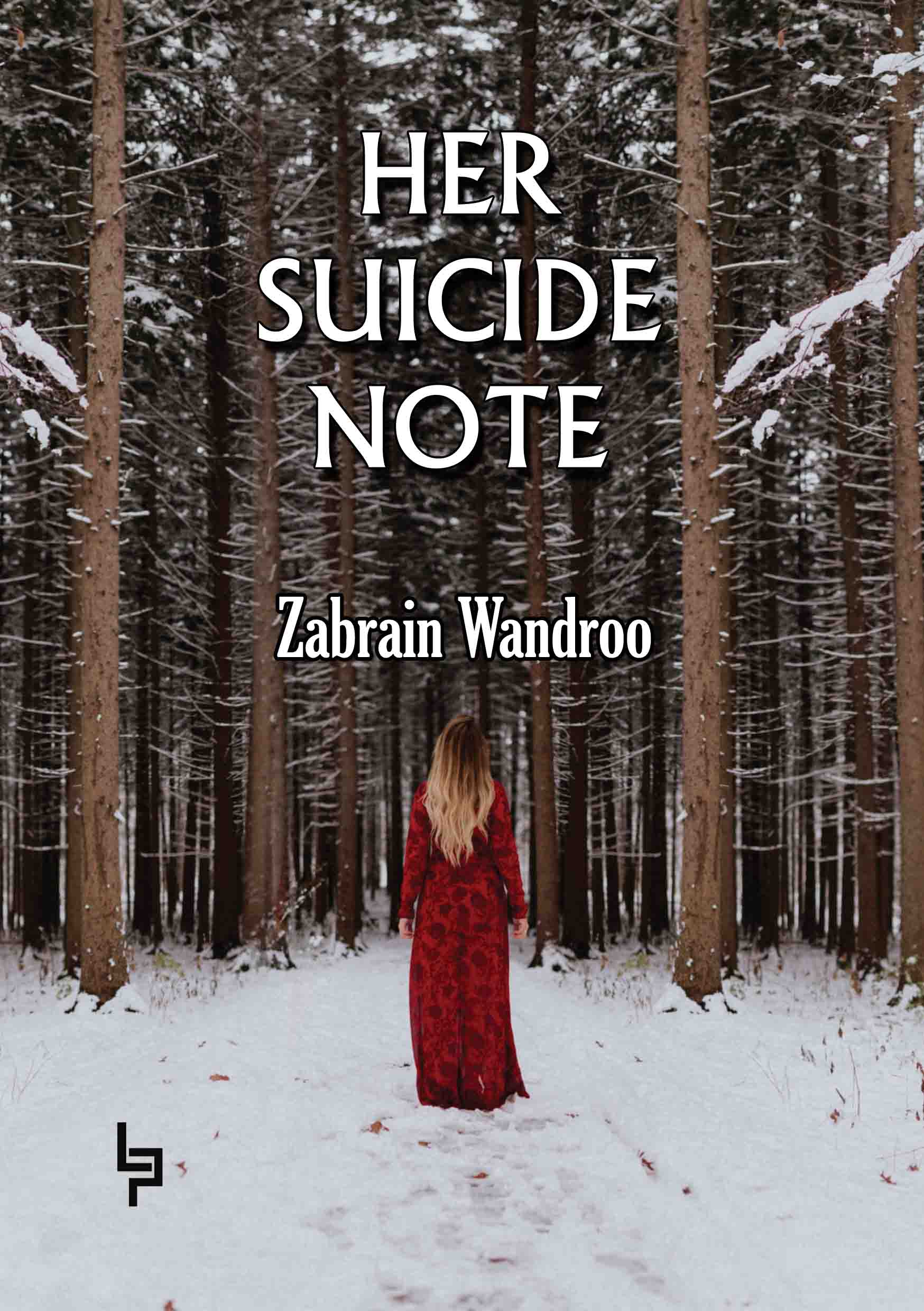 Her Suicide Note
Zabrain Wandroo
Fiction - Novel
About the book
It is a story of a teenager named Neelam Chak, narrated by her family, best friend and teacher. Her family hardly knows the reason behind Neelam's decision of taking her own life. This story will tell the readers about those reasons and will aware them about the threat to the life of teenagers. This book is an overall awareness for people of all ages.
---
Details
Publisher
Lieper Publication HANAN MIR Verified Buyer
Brilliant piece of literature Aman preet Verified Buyer Aamir Ganaie Verified Buyer
Very nice, more power to your pen Ghulam Ahmad Dar Verified Buyer
I am pleased to know that you have a desire of writing. Usually people of your age group desire to become someone who become saviours and such dreams mostly remain unfilled. All people are not born great. You deserve a praise for your excellent piece of research which has come out in the form of your book. God bless you. Stella Maris Verified Buyer
A heart touching story. Girl! You nailed it. This book made my heart throb, beat fast, cry and cry more. I have never been to kashmir but after reading the book I just feel like I paid a visit there. Neelam younous Verified Buyer
The writing is captivating, The characters are believable and I cared about them, The plot had so many twists and turns I couldn't put the book down.An extremely powerful story.I am proud of you. Arsheen Manzoor Verified Buyer
I just can't express in words what I felt. This book has taken my heart. I just really wished that this story never ended. A story of a teenager who struggled in a way that she should never struggle. This is the story which really needs to be made as an inspiration in today's world. I can't express what I felt but I can just say that it has become my favourite book. I really hope of some new book from the author which in a way continues the story. And tells us anything more about Neelam. It's a request. Just can't believe what I read. Hats off. 🌻🥰💓 Asma Verified Buyer
Very proud. This book was really more beautiful than I expected. Beautifully designed and yet informative. Rise and shine. Already waiting for another book. Malik imran jeelani Verified Buyer
Her suicide note gives tears in my eyes. And This is not any ones suicide note this "her suicide note" Lesson for parents give time, love and support to your children's. Furkan Verified Buyer
The suicide of the young girl in her late teens in the story reflects the pain and agony of many youth of same age .Overall content was great and the story was precise ... Wishing writer luck to keep up the good work like it 👍 lots of love💕💕 Gulzar Ahmad Dar Verified Buyer
I have not read it yet and I am ordering one copy of this book. And I have full faith in author and eagerly waiting for my copy. I am sure about it that it may contain such content which will be very informative for parents. Allah bless you Zabrain and continue with the same passion. One day, you will be the great author. Ahwar Verified Buyer
I wish you luck zabrain it's a amazing book and life of teenagers I would love to read this book with my heart iloveyou ❤️ UqBa Verified Buyer
A tremendous start to become an incredible author. This book gave a chill down my spine, amazing story telling. It covers up the most problems teenagers deal with, be it peer pressure, parental pressure or the anxiety which many people ignore or suffer from. Mental health is as important as physical health and parents need to understand that their expectations and their child's may not be the same sometimes. They need to accept their child's decision,regarding anything which might be a big deal for the child. The message has been beautifully portrayed by the author. It has become one of my favourite books. Also i'm already waiting for the next one. More power to you Zabrain! You made me proud! Hanan Verified Buyer
Great work done zabrain by writing this book( her sucide note ) read it once you are never gonna regret it Anzar Khan Verified Buyer
Worth buying, Amazing work. Writing a book at this age with such a short span of time. Lots of love stay blessed. sahran bhat Verified Buyer
Very nice book must read for today's generation. Amazing content. Munib Verified Buyer
Awesome really nice book ll suggest it to everyone. Alia Imtiyaz Verified Buyer
Recieved the book today. I really feel connected to the story. This book is so much mixed into different themes, really a lovely read. I felt bad because the story was brief. I wish the book never ended. Zabatay! Hats off 💘 Sofia... Verified Buyer
This book will helpful... Spreads awareness which is very important. It's just amazing and i feel Proud zabrain. Excellent job done by you. Wishing good luck to writer. Known Fan Verified Buyer
Read it. Beautiful story yet awares about the bad face of society. I'm really proud to be known person to author. Much love. ✌️ Shafiya Nabi Verified Buyer
This book seems a beautiful read. They name of the characters look so appropriate to kashmir. Mashallah be blessed zabrain Najeeb Gul Verified Buyer
Ideas fictioned on the pages are worth Praising, Hatss off to author i wish much more to go far.. Overall Excellent. Amaan Amin Verified Buyer
Excellent book to read( her sucide note ) , i feel proud that one of my friend has written the book , Allah bless you... Keep it up 👍🏾 Enab malik Verified Buyer
Just loved the book..!! i started reading the book and honestly finished it in one day..It covers so much issues that the young people go through everyday, and yes definitely it teaches us to cope up with the difficult situations. Excellent job done by the author. This is definitely a must-read..! Sanah Verified Buyer
This book will be helpful to adolescents struggling with anxiety, either as a a stand-alone guide to provide cognitive-behavioral strategies for anxiety, or as an adjunct to treatment. It can be a challenge to encourage teens to ask for help when they need it - so often they may not recognize that they are struggling, or they may feel reluctant to share how hard things are for them. I highly recommend it. The content of the book is really geared towards teens I personally think that every teenager must read this book Surely it will change their view about the society or visualising things I am personally very happy for my friend that she published such an amazing book that will surely guide every teenager in todays depressing world Zubair Verified Buyer
Fantastic story and beautifully designed. Just wishing good luck to writer. Hope much more from the author Asiya Verified Buyer
Amazing work. Writing a book at this age with such a short span of time. Lots of love Noone special Verified Buyer
The book provides insight about how a person feels when they are depressed, it not only tells us about how different people look at a depressed person and how they assume things about them, but on the flip side it also makes one realise that sometimes these assumptions could be wrong to a fatal extended, We never know what a person has gone through and wrong assumptions + judging them on that basis could really bring them to their lowest. Its a must read for those intrested in psychologyy and for self help too. The book covers mental health issues while the culture sweetness is maintained throughout. Hats off to the author. </3 Aasif Nazir Verified Buyer
Best Novel to read Hats off to the writer TARIQ AHMAD BHAT Verified Buyer
It is very good book one of my student has written it and I tell everyone that this book is best book it will inspire you not to commit suicide in society. Maria Dar Verified Buyer
Truly a book for all ages. Really appreciable to write a book at such age. Moomina Verified Buyer
Theme of the book is really interesting. And the way it is presented is commendable. All the quotations are really situational. Amazingly skilled Jenny Verified Buyer
Great book Nice work Well done Keep it up Rise and shine Sahreen Hussain Verified Buyer
Rational perpetuation of teenage life. Very well written. I wish all the luck to Zabrain. May you glide and outshine in the field the writing. Nighat Verified Buyer
A 10/10 rating Book. Storting and ending Could Not Be Amy Better Than this. a hüge success Towards Social work Nadia Dar Verified Buyer
A Perfect combination of Literature and Beauty of Culture. A book which discusses puticularly about The Real struggles of a Writers Who Never Geta support. Beautiful Seerat Ashraf Verified Buyer
The book is extremely breath taking and thrilling for the readers. It presents the suicide of a girl whose reasons of suicide are beautifully well explained by the author.After the thorough reading the words still echo in the minds of a reader thereby having the long lasting influence.The author has an amazing outlook on life. محمد یحیا Verified Buyer
This book is literally a honeycomb. From the very beginning,it keeps the curiosity alive in the reader.Seriously the work is meant for highest form of praise.Despite the author has published her first book,I was astonished to see the way she had portrayed the real incidences on the paper.Its a breathtaking moment for me to write a review for her book as it's a brilliant piece of work.Its captivating and worth buy book. Mehak Farooq Verified Buyer Mehak Verified Buyer
It's just simply amazing🔥 Mariya Khatoon Verified Buyer
The writer and the book❤It's really amazing,spreads awareness which is very important. May Almighty Allah bless and rise the girl(Zabrain)to heights of success.💓 Mysha Verified Buyer
Beautiful story with perfect teenager story. A must read. Rutba Verified Buyer
A beautiful way to spread social awareness. Beautiful characters and beauty of Kashmir. Ismat Verified Buyer
A must read for teenagers. Beautiful awarness