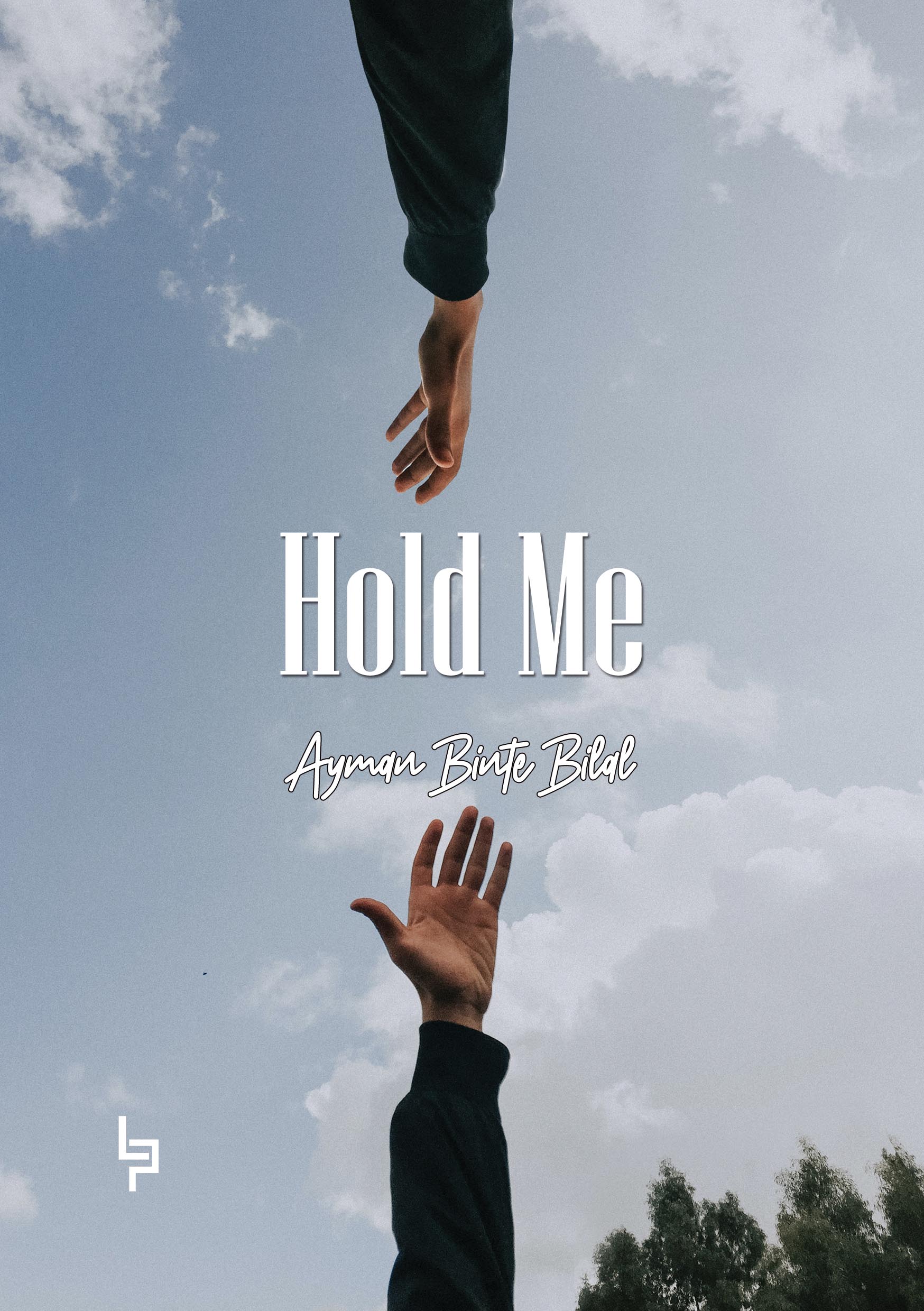 Hold me
Ayman Binte Bilal
Fiction - Novel
About the book
This book is a work of fiction which revolves around a girl Naima, who has lost her parents and now an unexpected disease has threatened her life. This story proves that nothing in this world can be expected. Your destiny will find it's way to reach you and hold on to you, as Almighty is the best planner.
---
Details
Publisher
Lieper Publication Sadiya Verified Buyer
Yk what? When I started reading your book i literally felt it deep inside This book is really interesting I'm in love with this book Zeenat Farooq Verified Buyer
We are totally stranger. Never met you but girl your words fit so fine as if you understand what one feels. God give you all the success and keep writing, Thank you for such a good book. Good luckkkkkk Sadat Fayaz Verified Buyer
Hold me, a book by Ayman has made me so excited for reading, it is such an awesome book. Me and my friends are loving it. If you are seeing this review Ayman u got a fan here. Great work. keep writing <3 <3 Shahid Yaqoob Verified Buyer
While I got a chance to read this book "Hold me" it was inspiring somehow because I observed while going through every page that "It can be done, being an author is possible all we need is courage. This Book is possibly one of the first books, I have read by such a young Author. It was really a great experience. Keep writing. Our support is with you. Dr. Tahir Ahmed Rather Verified Buyer
After getting a suggestion from a very dear friend to read this book. I was hesitant and at the same time surprised as well because of the Author "Ayman Binte Bilal" being just 17 years old and accomplished a big goal of being an Author. Talking about the book; It sure has that innocent childish touch but at some further going with the book it took me by surprise. The book does have a vibe of depth. I actually ended up liking it. I would be giving 5 stars and hope Ayman keeps writing and exploring life more :))) BEST WISHES. Dr. Shameem Tariq Verified Buyer
So first of I am really glad that Faheem suggested me this book. I am stunned at seeing this young teenage girl with the courage. This is book is so raw that it made me cry and i had promised to myself that i would leave a review. Ayman Bilal has some serious understanding and observation of life. I gave this book to my daughter and she was so inspired that she has promised me to write a book and her inspiration would be this young little Author. I wish her all the luck and health. Stay blessed by Child. Allah give you many more books to write and inspire us. Mukadas Salman Verified Buyer
There's absolutely nothing not to love about it. The cover of the book is so soft and aethestic. Every bit of the verses has life in them. I highly recommend purchasing it! One could just pick up the book and finish it in one go. Very aethestic and easy to understand. Beautiful work. I would be giving her 5 stars for her efforts and we are proud of seeing young kashmiri's writing books. It's inspiring. Hamza Abbas Rehman Verified Buyer
I haven't read many books in my life (unfortunately) and when I read this book "Hold me" I felt like I can easily understand it and really wasn't expecting much around it but i have to say that she has done a really wonderful job. Could easily connect with the story. I will read if anytime soon she publishes her another book. God bless. Bright future. Muntaha Sani Verified Buyer
I don't want to give away too much of this book, but I would like to point out the innocence this book has for sure. You can feel the kind and loving intent within every word. This book is very easy to read and understand. I would suggest people to read it. Midhaat Syed - Bookish Verified Buyer
Best Things About This Book : 1. Simple story with a really nice touch of flow. 2. Story moves at a gripping pace and the chracters are moving along. 3. Characters are pretty to easy to understand. Overall AYMAN has wrote a nice book. Hope she continues writing. Good luck Preeti Koul Verified Buyer
I got a chance to read this book out of an accident (kindle accident, if you may) and I was sort of fascinated and also worried that what would a 17 year be having in her book and I started reading it immediately. I would like to regardless of content (which was pretty good) I was before that inspired by this little writer of how strong and full of courage she is. This book is a good quick read. I am so happy for these young writers. Proud of her, Keep writing and keep inspiring. Waseem Ahmad Jan Verified Buyer
Every word of this book gives a new meaning to the reader. And I urge to everyone read this book... further so that your knowledge may increase. Full of emotions and inspiration. Asif Verified Buyer
Liked the plot of story .Had a great time reading it .It was giving out more real essence . Aamir manzoor khan Verified Buyer
I read the book in a very slow manner out of curiosity and it payed well to each and every awesome twist in the srory …I really applaud the writer to bring life to the fictional characters, at point it seems as self seen story…….Good wishes for your future endeavours and carry on your good work Sheikh Saba Verified Buyer
The writing was captivating,the characters were believable,the plot had some twists,I couldn't put the book down...I look forward to your writing.... Allah bless you ❣️ AFROZA SHAFI Verified Buyer
Great talent, a fictious story but very emotional Ahmed Verified Buyer
All mighty is the best planner. Great story Murtaza Verified Buyer
A story that indeed made me cry.Kudoos to the writer Zakira Verified Buyer
Just amazing Love the way u write