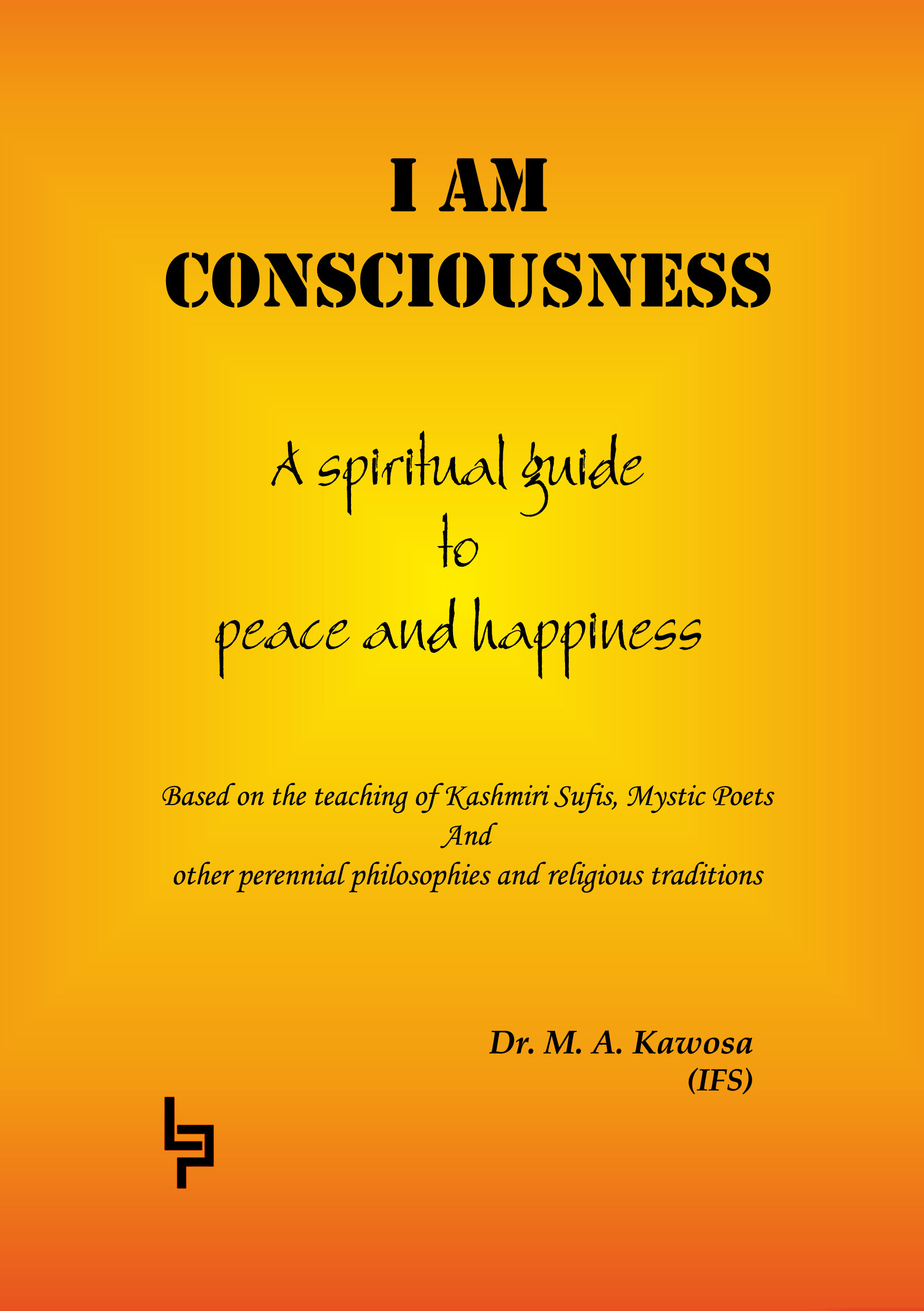 I am Consciousness (a spiritual guide to peace and happiness)
Dr. M.A Kawosa
Mystic Books
About the book
The book will help readers to discover the meaning of inner peace and happiness by living the consciousness that has been meticulously explained in the book. The book explains various techniques of transcending the separate self- the mind and body combination, based on experiential knowledge of Kashmiri mystics and the followers of the Shaivite School of the philosophy of Kashmir. The author, however, cautions us to the dangers of downplaying the role of religions or form, in the name of mysticism, sold to many, eager for spiritual experience. An intense spiritual and life-changing book.
---
Details
Publisher
Lieper Publication Kindle customer Verified Buyer
MashaAllah Reviewed in India on 26 September 2021 So much grateful to the author for this wonderful book. May Allah elevate you in your state of consciousness. It is a treasure, a guidance and noor/light. Such a complex subject explained so beautifully and in easy language. Highly thankful sir. Ali Muhammad Qadiri Verified Buyer
The author has tried to provide the meanings and definitions of various important aspects of life that can be followed. Veertaj Verified Buyer
This book changed how I understand myself and the world. Really helped me establish a strong character inside. Dr. Zahir Mehta Verified Buyer
The book was very well researched. Mirza Farooq Verified Buyer
There are different types of books and this is also one sort of. I am confused about which category I should relate to in this book. All I can say is, "IF UNDERSTOOD CAREFULLY, IT CAN CHANGE A PERSON TO WONDERS" Mudavir Zeeshan Qureshi Verified Buyer
This book has lots of lessons to learn from. The book is written really well and the way chapters go on, It has been planned very professionally. Dr. Rizwana Tahir Khan Verified Buyer
I found myself identifying this book in the real sense and honestly it works. I would recommend this book for those who want answers in life. It will solve chaos in their mind. Nahila Rehman Verified Buyer
This book has extraordinary simplicity in explaining lot many complex questions of life. Must read Zeenat Sarabjeet Kour Verified Buyer
I bought this book on the basis of it's title and was worried about the content but it paid off. This book gently guides through the techniques and lesson in life. Love the work. Dr. Vsam Naish Verified Buyer
I like the simplicity of this book. It does definitely lead one to think and apply many exapmles and lessons in life. Er. Zuha Zahid Lone Verified Buyer
One can easily finding the purpose of life if they dug deep into this book. Trust me, with this book, things are different. It's sooo damn easy. Kudos to the Author Tahir Khan Verified Buyer
Amazing book I have ever read, I can easily translate and read the sayings of spiritual masters and get the inner meaning of of it. Easy and beautiful read!! Sohail Mansuri Verified Buyer
The book is in-depth. Some chapters can create an impact and shake the hell out of the reader. It was a really good book, one needs to read this book multiple times because it's not so easy to understand but overall. It is a good read. Nausheeba Khan Verified Buyer
Each mindset is explained in detail with solid examples. This book is for everyone of all ages and walks of one's life. 4 from me!! Humanshu Rhedna Verified Buyer
This book gives you an idea by doing energy practices on our body. if literally, anyone wants to get acquainted with spirituality without much complexity, read this book!! Shahzaman Akber Verified Buyer
This book will leave a mark for sure. Wonderful book. Kudos to Lieper for coming upcoming with such Much-needed books for this chaotic world right now. Definite 5 stars from me!! Ahsan Younus Haqaq Verified Buyer
The book is quite concise and can be read continuously. It contains deep teachings for the mind on various topics. The way it's written can be understood easy along with examples. Overall it's a nice book... Azhar Ul Fayaz Verified Buyer
A good book for troubled minds. This book teaches you of how you can create a happy successful (and by success I mean the way of success as in happiness and dealing with problems) Using this book's chapters in real life can really bring miracles to life... Inaz Ul Haq Verified Buyer
It contains all ideas and good thoughts for living a conscious life. Definitely a must-read book. It's going to give a lot of positive thoughts... Best of luck to the Author Prijal Zia Verified Buyer
This book can take you to the next level. The author seems to be having firsthand knowledge of the subject. It is a good read. Fatima Salam Choudary Verified Buyer
This book is for people who like spirituality, it definitely gives insights about life and understanding oneself but I'm not impressed with the writing. Too average English. Souleh Fayaz Soz Verified Buyer
What I love most about this book is that the author actually does take you on a journey of Kashmiri spiritual masters and then mingle the rest of the chapters with such beautiful examples that it can be understood quite easily... Dr Mehreen Rehman Chowdary Verified Buyer
This book is captivating! The author has made it so simple and practical. If read extremely carefully it has the ability to change the life of a person. Tanaz Hussan Verified Buyer
For spiritual aspirants, this book can work as a wonderful guide since to somewhat answers many questions related to the challenges on the path of meditation and understanding the human body. Tasleema Ajaz Reshi Verified Buyer
Outstanding book. Simple narrative, candid examples, and cogent messages. I suggest stopping your every work .just buy .and read and understand this book as soon as possible. Buy it. Arman Wani Verified Buyer
I read the complete Book, It gives the hope to overcome from the struggle, & pain To see life in a positive attitude. Reyan Tariq Shah Verified Buyer
This book didn't just speak but it shouted to me. Its 6th chapter "Stations and states of consciousness" is just mind-blowing, This book is definitely a must-read... ... Shubham Saya Verified Buyer
After reading this book I finally understood what being conscious actually means..and the journey of reading this book has been amazing. It can only be experienced individually, so I would suggest giving it a read. Its definitely one of the best books I have come across so far! Muzamil Makdhoomi Verified Buyer
It is an incredible book for self-growth, and understanding ourselves on a deeper level. It can somehow motivate one to follow the righteous way and simple take decisions in life easily. Kanishk_Agarwal Verified Buyer
The content is rich and the way of articulation is simply amazing. I would definitely recommend it to everyone. Kifayat Kirmani Verified Buyer
This Book makes one realise that how causual we take our Brains and all the God's Mechanics but the Author My Goodness he explain in such an amazing use way. Kudos Mariya Aayat Verified Buyer
This book simply and slowly make us realise what all wrong we are doing in life, how wrong we are living. And, then tell us the best way to over come it. Anuradha Sharma Verified Buyer
This book was very humbling and such a breeze to read. Really helps you put your own life into perspective and makes you realise that no one can change your life for you, you have to do it yourself. christopher sweetman Verified Buyer Priyanka Kajal Verified Buyer
Beautiful book. I liked the fact that this book was the fact that you can read it multiple times, whenever you are feeling lost or overwhelmed and it can give you a gentle nudge in the right direction. Irtiqa Farooq Verified Buyer
Everyone should read this book. It is truly an eye-opener. Zamir Farooq Verified Buyer
This book shows you how. Really. It's a practical guide for busy, modern people on how to bring balance, peace, and joy into daily life. Written as a set of questions and answers, it's easy to read and gives a clear and simple approach to life's big questions. Aaruhi Ajay Verified Buyer
A must-read book to the Heartfulness way and how it can change our day-to-day lives. The author has done an excellent job of capturing the essence of the Heartfulness approach and its transformative potential throughout. Dr. Tahir Aman Verified Buyer
This book helps to transform the glorified spiritual concepts to approachable, understandable, and feasible practices so that they become our way of life. Based on a combination of real-life case studies, the book is a sincere attempt to present deeper wisdom. Rafiq Rehman Verified Buyer
This is probably the most interesting book I've read so far, the writing so the book is amazing and can be easily understood. I am putting 5 stars... Anureet Solanki Verified Buyer
Forget that fact the it's a book aimed at people who love GOD...it's got good sound advice and is well worth the read. Tahir Tasaduq Verified Buyer
. I know it is a book I will read again and again and always get more from it. So much common sense, so much wisdom. Wonderful read. Rahila Bint Ayaz Verified Buyer
I don't want to give away too much of this book, because the way everything is explained is so brilliant and builds in layers. The way it is told is important. You can feel the kind and loving intent within every word. This book is very easy to read and understand; you really don't need advanced philosophy to move mountains of the mind. Harpeet Kour Verified Buyer
Great antidote to the depressing world. Punye Taneja Verified Buyer
The wisdom in this book has completely transformed my life, more than anything thing else I've ever read or meditated on. This book is definitely my favorite book. Danket Subey Verified Buyer
I have read more than 300+ books in my life (every genre) and honestly, this genre "Spirituality" already had fewer books and not so much helpful indeed but this book has the answers to lots of questions (unfortunately I am not so much familiar with Kashmiri Spiritual Masters but I am so into it now that i would soon start my research on it. But in nutshell this book, 'It's a medicine' for people like me... Azra Mushtaq Noorani Verified Buyer
This is not just a book, it's indeed a vision. Honestly, this is not a promotional review but 100% HONEST. This book is a VISION. It's a lesson. It's insightful, it's my fav Book. Mujtaba Rehman Sofi Verified Buyer
I am so enlightened by this book. It is really such an interesting book. Once you start reading it, it goes like water "Smooth" Beautiful Indeed, Infinite Stars!!! Nayreen Mushtaq Verified Buyer
A book straight from the heart. Half is finished and I can't wait to read more. All the respect to the Author. Aisha Sameer Pandit Verified Buyer
While reading this book I am left with so much curiosity that I am surfing google about Kashmiri Spiritual Masters and everything. This book is definitely my favorite in the genre of "Mystic/ Spiritual books" Best to the Author Anuj Anital Jhan Verified Buyer
I found this book by accident and while I read a few pages I understood that it was indeed a happy accident. I am mind blown and I can explain... The Author has a pure soul. Shabir Showkat Verified Buyer
This book is a real treasure. I mean I salute to the Author. I hope he sees this reviews and read "Dr. M A Kawosa Sir. You are a philosopher what took you so long to get this book out there" All the heath to and happiness to you. John Lenihan Verified Buyer
This book is just amazing and should be read by every humane being!!! A big heart felt thank you to the author and for sharing this wonderful treasure.
I am Consciousness (a spiritual guide to peace and happiness)