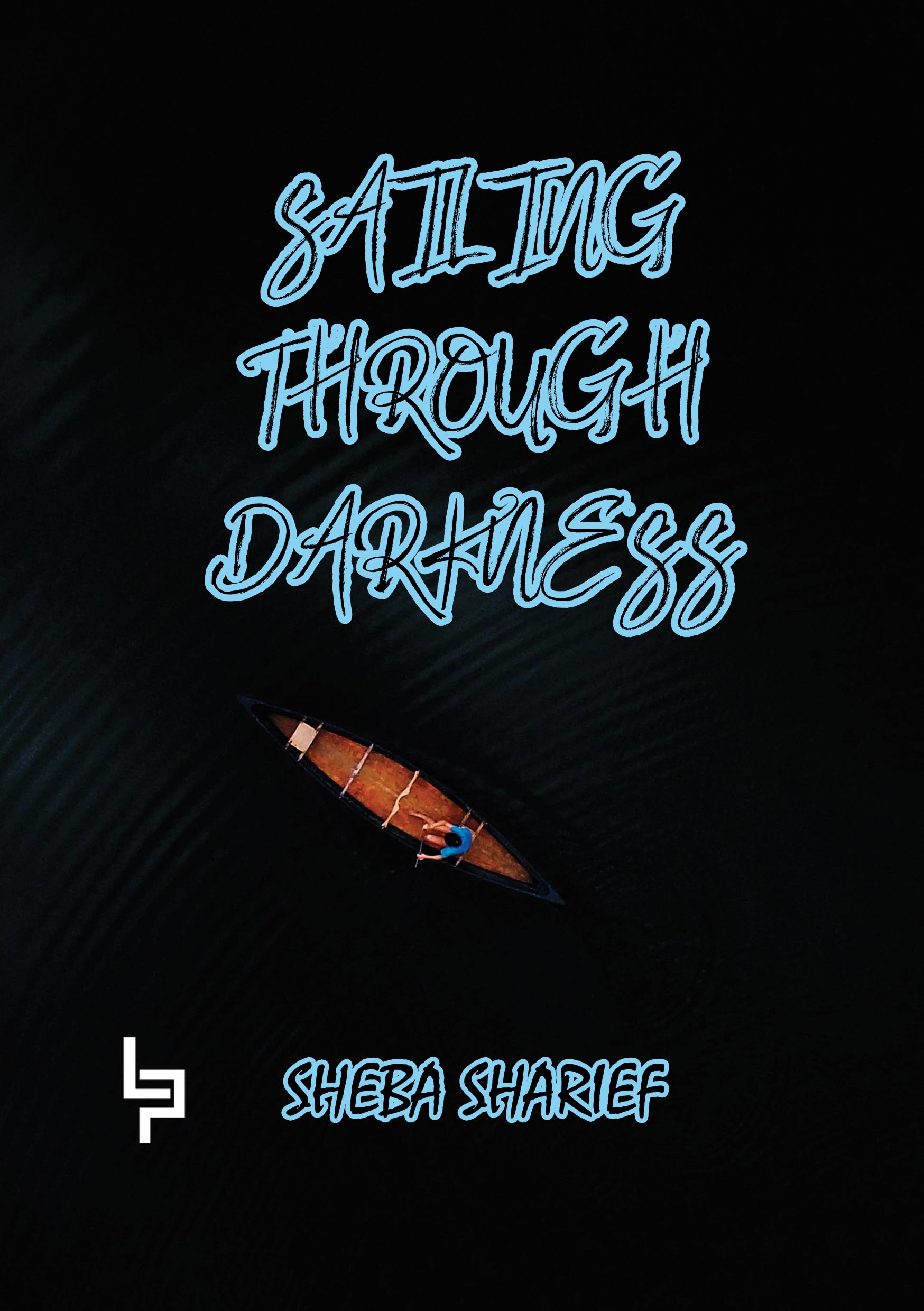 Sailing through Darkness
Sheba Sharief
Feminism
About the book
"Sailing through darkness" is a story based on an amalgam of themes with feminism and self-discovery at its thematic core. This book describes the journey of Muskaan from being a naive and juvenile girl to an independent Individual. Amid this transition, she makes many realizations, and these changes her worldview dramatically. This book also attempts to address many morally reprehensible orthodox believe prevalent in our society and espouses for their eradication.
---
Details
Publisher
Lieper Publication Maheen Verified Buyer
I have literally cried while reading this book. It's amazing. Salman Hassan Verified Buyer
I tried to write this review earlier.but I couldn't complete this book due to lack of time.you know I don't want to write a fake review I be the honest at every step of life. Would like to say that I just finished the book and frankly I can't describe it by words.. Believe me It's kind of gem,it's tremendous.i feel everyone should read it once and yea it may sound akward but TBH I have fallen in Love with this name MUSKAAN..! Mir Raafiyah Verified Buyer
This book is the answer of every question about feminism.... It clears all the confusions.... Wonderful writings... Hats off to you Sis Sheba Mir Raafiyah Verified Buyer
This book is the answer of every question about feminism.... It clears all the confusions.... Wonderful writings... Hats off to you Sis Sheba Prof. Imrana Shahid Verified Buyer
Fantastic! Highly recommended this! Made me aware about a lot of things. This book is a must read. Waiting for more books from the Author – Sheba Sharief Syed Nahila Verified Buyer
What a wonderful read. The language is so simple yet engaging. The story flows in a perfect manner. Kudos Mehreen Hayat Verified Buyer
The best life guide book one can own on real Feminism. Keep going Ms. Sheba. Abdul Muteen Verified Buyer
Finished it in one sitting. The story, the characters and everything about the book was amazing. I really loved it. Dr. Mehish Naqash Peerzada Verified Buyer
Firstly I appreciate the price of the book. It's amazing the way publisher and author have collaborated to focus more on getting the message out there rather than on money. This book is definitely my favorite and I will recommend this book to my colleagues. Aiyman Ajaz Verified Buyer
Hats off to her. Sailing through darkness is the answer to everything. Muntaha Verified Buyer
Loved her work. It is indeed a best one on Feminism. It made me cry. Sheba has a great career ahead. Aneesa Behzad Verified Buyer
After reading this book it feels like someone has put into words what I've wanted to share for years. As in life what was our "Mallinson School " days like I loved this book. Gonna keep it on my bookshelf forever. Prof. Zeenat Mehdi Verified Buyer
This book is liberating! It should be a must for all women. Factual, dreamer chasing character and fundamentally right! Good read!! Meeran shafi Verified Buyer
I really have lots of differences on Feminism but this story is Juvenal yet so beautiful. Aleesha khan Verified Buyer
What a beautiful read. I have became her fan!! Saika Peerzada Verified Buyer
This book is so beautifully written. Not for a moment did I feel like putting it down. I hope to read more books of Sheba. Aayat Khan Verified Buyer
The Author (Sheba) has a brilliant way with words. She puts across her point in a powerful yet succinct way. Kudos Er. Sultana Rather Verified Buyer
I read it all in one go and didn't stop till I finished this book was such a good read, an eye opener. Sabia Rehman Verified Buyer
While so many people have eventually lots of differences in 'Feminism, but there are people like Sheba, who discover and then write in such a perfect way to answer lots of questions on this genre. Kudos!! Zeenat Farooq Haq Verified Buyer
Best Things About This Book : 1. Simple English use for a much wider understanding. 2. Story moves at a gripping pace. 3. Characters are so easy to understand. 4. The most important points; "Real meaning of feminism is in this book" Nisha Sharma Verified Buyer
I loved reading this book. The end was unpredictable and awesome! 5 stars from me!! Zuha Mushtaq Hakak Verified Buyer
I found the story very engaging. It is a powerful, evocative read of girl life (Muskaan) I loved it. Simran Qayoom Verified Buyer
The basic concept of feminism and the simple ways to get to the ideal way of living equally is explained beautifully in this book. Aisha Ayaz Shah Verified Buyer
This book answered literally everything about what feminism really looks like. Best wishes to the author for this amazing book. Thank you, Faheem for posting about this book. You guys are doing amazing.. Zara Farooq Verified Buyer
It's a good book for people who wouldn't really consider themselves as being feminists, women and men alike and how important it is to go after your dreams. Prijal Mehr Verified Buyer
I particularly like the way she draws attention to a particular topic and sticks to it and does not want it to be generalized, like how she wants to be known as feminist Benish Tariq Verified Buyer
Such a beautiful book. The story of Muskaan brought tears in my eyes. I salute the author. Such books should come out more. "Sheba waiting for your next book." Nimra Firdous Verified Buyer Umbreen Aijaz Verified Buyer
Chapter 5 of this book "Sailing through darkness" is the best one. I am amazed at the writing style of Sheba, I felt the culture she put in. It is amazing. Best of luck. Saira Peerzada Verified Buyer
What a book. I mean it felt like a movie. Sheba should consider being a scriptwriter. Faheem sir is indeed doing an amazing job bringing these kinds of books out. Kudos to the Author… Wish I get my signed copy someday.