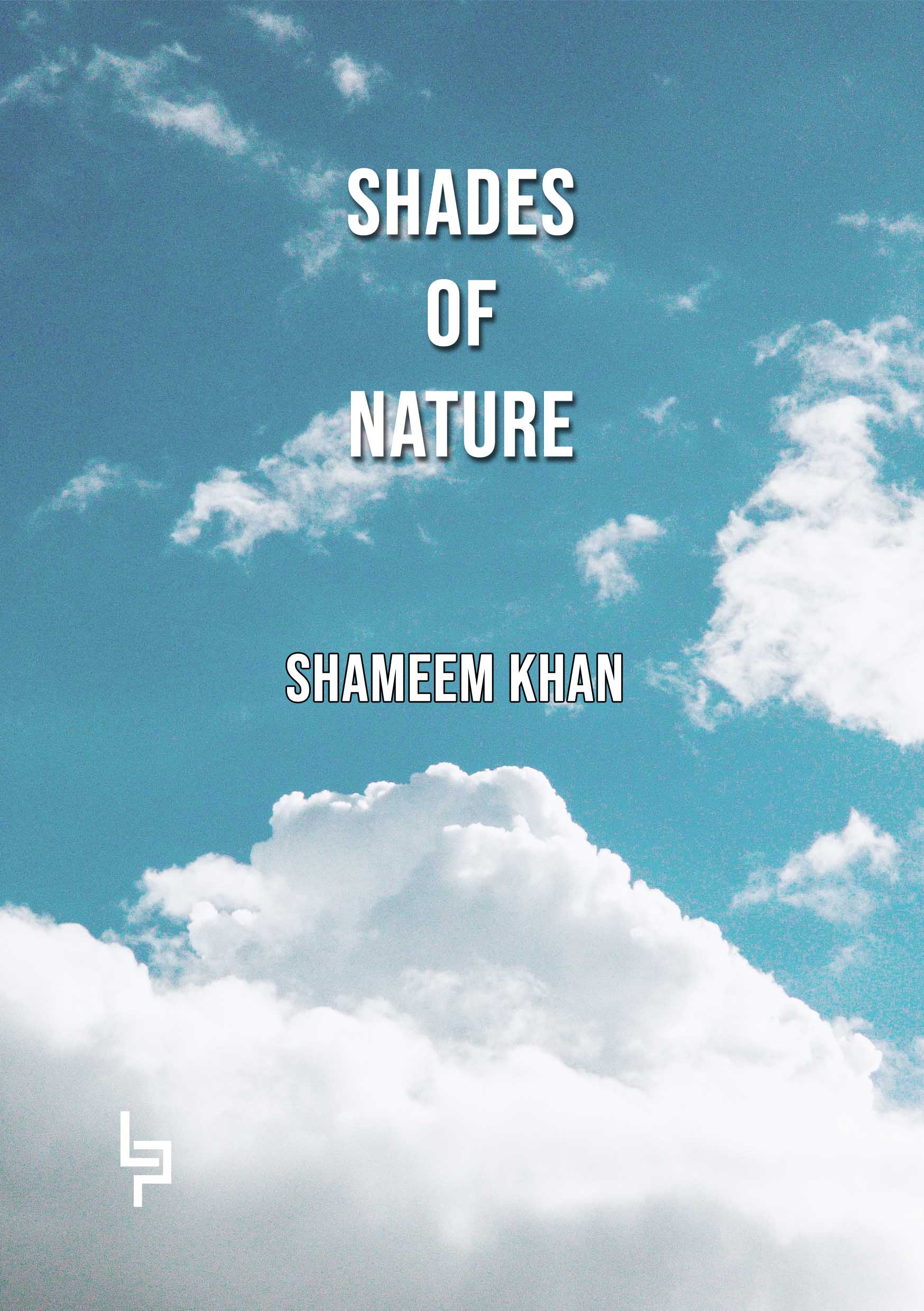 Shades of Nature
Shameem Khan
Poetry
About the book
Butterflies roaming in bowers. Rain pouring in showers. Mountains full of snow. Seems God planted on them Trees in a row. What a scene And what a show, In brooks water jingling, To and fro. Wind rustling in woods, In a voice so low. Is Heaven so pretty, I ask God with a bow. God what is this secret, I want to know.
---
Details
Publisher
Lieper Publication
Book type
Paperback - Fullcolor Dr Sehar Mir Verified Buyer
A good piece of writing you have put down. The kind of message you wanted to deliver was clean. The usage of words was simple and crisp. You didnt rush for any kind of rhyme and kept to the emotion.I really like it in poems.There are some nice touches in this piece, particularly the opening lines. Vidhya Rao Apthey - Kerala Verified Buyer
I love to dwell in nature so i purchased this book "Shades of Nature". This book is a beauty spot where nature smiles at you.As you come across different stanzas, wind knocks your door, water erupts up and you can smell the scented flowers. This book gave a soothing touch to my eyes. Topic of nature is so less of good poetry books. People looking to read in same genre should really read this book. Must read! Monisha Singhal Verified Buyer
The writing was captivating. This book's characters were believable and there was originality in the poems.. This is the kind of poetry book that once you start reading it one can't put the book down without finishing. There was so much emotions in the poems, i felt so connected. God Bless the author. 5 stars from me. Monisa Shah Verified Buyer
After reading SHADES OF NATURE,I dont think i need to talk about the poems because everyone reading this book , is already familiar with the work of Shameem khan and if you are not, then here is a mini trailer. This book is a pleasure to hold and read.You can actually finish this book in just an hour. Poems are mind refreshing and brings together the best of writing with nature. Sourabh Joshi Verified Buyer
Must congratulate Shameem ji for jotting down such poetry on paper. This is what poetry is all about. Her poetry is MUSIC. No matter how bad your voice is: the words put the taste in your mouth and heart. Bohat he kamal ki poetry. 5 Stars from me. Muskaan Shafi Verified Buyer
As I move my eyes through the refreshing pages of this book , i absolutely adore these beautiful poems of nature . If you ask me what's one of your favourite books you read so far this year, my answer will be Shades Of Nature .There are few books that leave any impact on you and this is one such book. One , two , I buckled my shoe, To go uphill, Over the mountain dew. Such charm & beauty Watched by people few. Isn't this amazing!!! Ruvaida Kayas Verified Buyer
I usually don't write reviews and mostly shy away but this time I can't resist myself. So many people have expressed their thoughts over here so i felt deeply to write my thought about it here. So nature is a subject i keep coming back to, I gifted myself this book. The writing style, warmth of words and everything is just so realistic which I have seen in very few books. I wonder how author has managed to pull it off. If i ever get a chance to meet Shameem Khan , i would like to thank her for her contribution in writing on this beautiful subject. I think more books should be written just like this. It gives a old reading like me a sense of taste. My heart goes out for this book. May Allah SWT bless her and her family Irtika Bookiesh_doors. Verified Buyer
This book holds a particular place in my heart because I've always liked reading books and have never attempted anything else, but this was the first time I considered trying poetry. I picked SHADES OF NATURE because of its topic and I saw stories of reviews on instagram handle of the publisher. So anyways little did I know that it would stay in the back of my mind. I wish to thank the author of this book for writing it. She has created a flawless combination of poetry with such simplicity that it shows the long-term work she has put into it. Also have to mention the flow of words is great. Her words flow like a river making the reader like me so happy. Already, I'm itching to read it again! Will keep reading poetry. Good luck to you all. Meena rn verma Verified Buyer
I picked up a copy of this book 'SHADES OF NATURE ' after coming across all the positive reviews over here. Let me break down my admiration for this book brick by brick. Securing a 5 out of 5 , these poems are beyond beautiful. I had read this book in my room but felt like going out somewhere. I was searching for some profound thoughts about nature, but this book delivers a full package of nature . Great piece of work by Shameem Khan . Zufran Qadir Lone Verified Buyer
As it is said , sometimes the simplest things mean the most. My sister had read this book and as she knows how much close i am with nature and how i keep my garden, she gifted it to me and when I commenced reading it, the imaginary wings of nature spreaded peace in my mind. I can keep reading this book again and again to enjoy the Marvels of nature. Dear author, I highly appreciate your thoughtfulness and I am touched beyond words. Shameema Aftaf Mir Verified Buyer
First of I want to mention a very lucky coincidence, I have the same name as of the Author, Shameem. Talking about the book now, as capturing the essence of nature is not easy , I must say what a commendable poetry written by Shameem Khan .The insights offered into the nature are just amazing. It takes you on a journey of an infinite sphere of nature where winds long to play with your hair , sight of stars makes you dream and you feel delight in each poem. Very well written & time worthy! Saleem Arshid Verified Buyer
As I started reading this book, it is a perfect blend of tranquility, serenity & beauty of nature.It makes you want to venture out to the mountains , forests and beaches & leaves you all immersed in nature.Be it rolling waves crashing against the sandy shore , hearing birds chirping in green or luscious forests, it leaves you awestruck.Snow flakes beat upon you like feathers and river sings a lullaby.Truly alluring poems written by the author Nikita Rar Verified Buyer
Being a green activist I started reading this book (title attracted me to buy it) The beautifully written poetry depicts the different shades of nature. The contorted , bent trees of forests plants the seeds of happiness in reader's mind(mostly to readers like me who love and are fascinated with nature) On the secluded beaches, you can see how ocean refuses to stop kissing the shoreline and the rhythm of water sets you free. Hope this lines of appreciation did any poestic justice dear Author. Congratulations for such a beautiful book. Moonisa Shahbaz Verified Buyer
I am a tree hugging green panther who is in awe of nature.As there is no heaven on earth, this book presents the pieces of it . It makes u enjoy listening to the waves rolling in as if u are listening to an orchestra, it paints beautiful views infront of your eyes where sky is above, green carpet of earth is below and peace within. While coming across its poems u feel like escaping into the forests.Indeed, a beautiful distraction!!!! Zoya peerzada Verified Buyer
Being lusty for nature , i started reading this book. It takes u to the picturesque views of hills , makes u enjoy the falling of snow flakes & gives u a breath of fresh air. Extremely enchanting poems!!! Congratulations Shameem khan Yayha mehraj Verified Buyer
This book is a masterpiece, a complete package of nature! Reading it felt like having a walk in woods, listening to the music of water bubbles, smelling the fragrance of flowers . You will enjoy each n every poem of it .Quite beautiful & engaging!! Nida Naseer Verified Buyer
This book is a must read for nature lovers. An astounding collection of poems for those wanderlust souls out there, beautifully presented by author!! From falling snow flakes to hilltop with a hue ,each chapter paints a picture in your mind and takes you out on a nature ride! Tania Sivraj Mukherjee Verified Buyer
Being a newbie at the age of 55 with books. Scrolling the internet is like a thing now for me after my retirement. I found out about this book from the publishers website and read beautiful comments and thought of giving it a go. Believe it or not, this is my first non-academic book that I have read. And so when i started to read this book. I was very fascinated and very happy that this book turned out to be a very beautiful one. Good experience and beautiful chose of pictures. Appreciate the work. May Devi Saraswati ji bless you and your family. Namastey.. Ms. Arshie Vaar Verified Buyer
Asalamalaikum everyone and especially to the writer of this book. Congrats for your book. This type of book is very much needed in the times we are in. Poems in this book are deep, emotional, sensitive and the best thing is that it paints a picture in your mind when you read it. Thank you and Regards Ms. Arshie Vaar. Dr. VK Singh Verified Buyer
I have been following this publisher for a while and i read this book "300 quotes" that was published by lieper publications, then I was searching for another book and the tittle of this book "Shades of nature" attracted me and thus I decided to buy it (i am a retired person guilty of judging books by its cover and title first) well it turned well for me. Ms. Shameem has wrote this book in a very simple way possible for readers to understand and have time to immediately think. I while not appreciate her writing this book but encouraging people like me to read more. Best money spent. Good job. Keep writing more. Mujtuba Shah Verified Buyer
Hello everyone. I got this book by reading reviews of it and i saw so many positive reviews that i thought of buying it. While I started reading this book. I was really thinking of writing a review more unbiased because i thought most of the reviews where bias. But here while writing this review, i stand proven wrong. This book is very easy to read but it has simplicity and much touch of philosophy. I like it this book. I will be giving it 4 stars. Good work guys. Gousia Fayaz Verified Buyer
Here to write a review for "Shades of Nature" this book is a short read poetry book with around 50 pages in it. I have to say that i liked most of the poems in it but what i used more was few that i will be mentioning the names of here: A bubble, The dream of a ballon seller, Hello sweet bird, where is god" these poems have touched my heart and made me realise how things can be bigger if we focus and change our perspective about it. Congratulation for writing such book. Wish to read more like these books. Nadiha Shah (K.U) Verified Buyer
Well, while I press my keyboard to type some appreciative lines for Shameem Khan it is absolutely difficult to because the whole book is floating in my mind and i seem to be very confused with what should i say. The poems in this book are so philosophical and deep that i imagine it takes a lifetime of effort to come up with something like this. Words can't justify but simply it is a book worth reading. Arzu Wani Verified Buyer
I haven't ever tried to write a review, but sometimes what happens is when you read a line or a poem or poems for that matter, you lay back and think "Wow i think this about is talking about what i have also experienced or thought in my life" then it becomes more of a duty to come out here and talk about it. Congratulations to Shameem Khan for touch hearts here. Beautiful book. God bless you and your family, will be sharing this book with my friends. Namita Rao Verified Buyer
I would like to have a mention of a poem "the boy and the mountain" My God the observation of the author is brilliant and I would like to explain that here how? It is the sheer depth of words and dramatic lines like "I will drink life to its end" makes the imagination go all around the places. I would like to appreciate the authors efforts into writing this. I have already placed an order for my hardcover. Will be keeping it on the shelf of my home library. Hope to write. KUDOS. Tahreema Akthar Verified Buyer
It is more fascinating to see what simple words put into a perfect blend of rhymes can do. Incredible work. I am new to this reading world and it is simply amazing to see this type of work. Ibrahim Salem Verified Buyer
What Shameem's poetry has achieved for me, as I reader is that Life has more to it then one can imagine. Mukhtaar Ahmad Verified Buyer
Amazing work and great publication Anna Verified Buyer
Very nice book to read, very beautiful and positive thoughts have been put all across the book. I'd recommend this to everyone Misbah Bashir Verified Buyer
Her words are truly magnificent and out of the world. So refreshing and beautifully written. Loved every bit of it. Preeti Sinha Verified Buyer
This review is probably going to be very different because it's more of a realization, "I feel that when i was reading this book, I seemed to be smiling in fascination." and that's not very often happening around when i read books :) Aamir Tariq Khan Verified Buyer
What Shameem writes is very inspirational. These poems are very smooth and she has very different way of innocence in her poems. Most of the time, I was fascinated by some lines. Nighat Rehman Verified Buyer
Oh Dear God! This book is everything i expected from Shameem Khan after having already read her book. She has the magic of simplicity in her words. Super Inspired. Saleem Yousuf Verified Buyer
Ordered just now. Loved the first edition. This will be amazing for sure. Shameem aunty is my favourite author. Umar Mir Verified Buyer
I wasn't into poetry but after reading the cover of the book am already fallen into love with this book. Waiting for the order now. Midhaat Nazir Verified Buyer
It is such a good surprise to see Shameem Khan's second book. I haven't read it yet, but when Lieper uploaded about launching the book, I was excited and going to read it as soon i receive my copy.