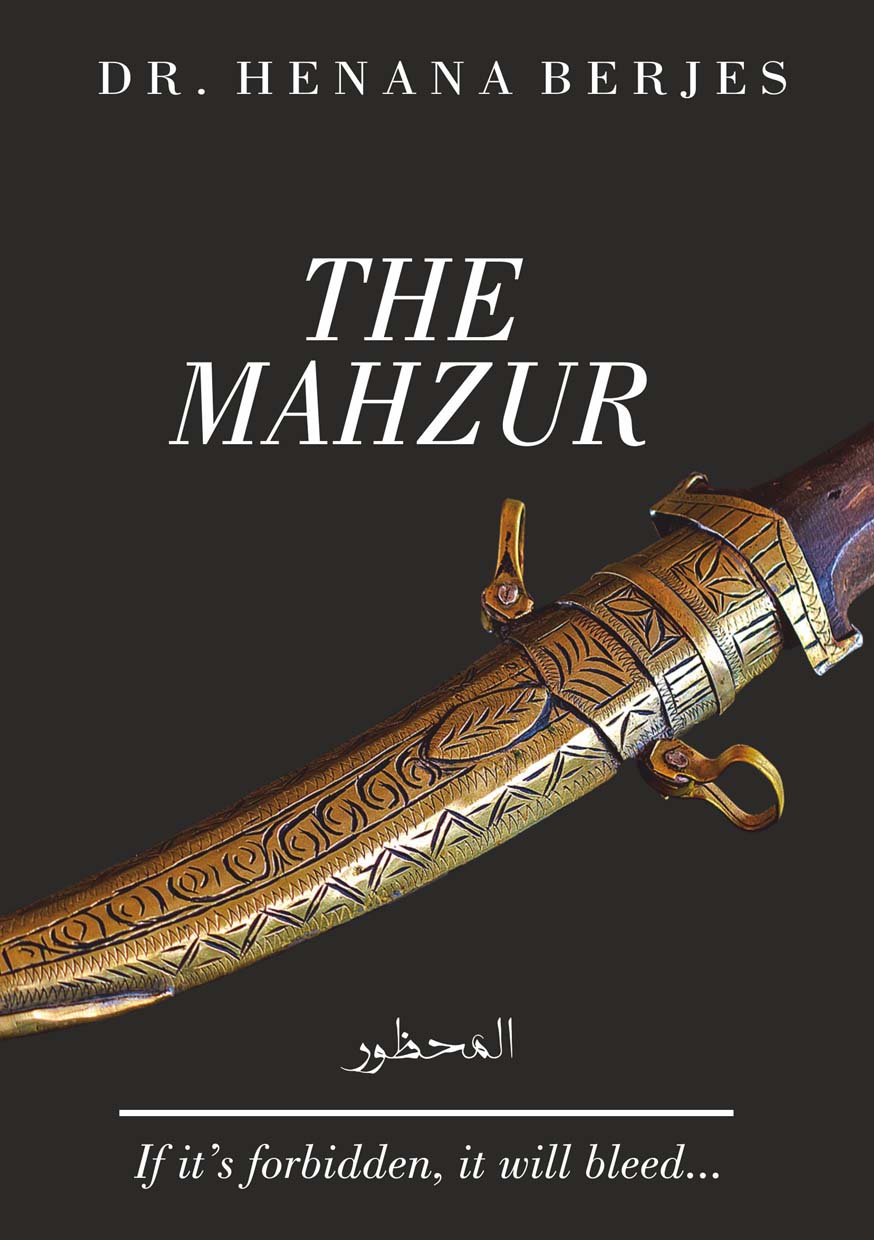 The Mahzur
Dr. Henana Berjes
Thriller
About the book
'It isn't enticing enough if it isn't forbidden.' Humanity has sworn by this dictum since eons. Aren't we here as a testimony to the first sin ever committed by Man? How can Sin be sacred? How can anything related to life remotely be connected to sanctity and yet we swear by Sanctity as well. For years, the conflict is manifest and for years, unresolved. Somewhere between the promise of resurrection and eternal damnation, we exist as a race tugged towards both good and bad by a thin thread of belief. Satan in one minute and angel in another, we defy all logic when it comes to tasting the forbidden fruit. What is so tantalizing about it is the same thing that makes it unforgiving, its soul! And in the end it hurts, it leads to bloodshed, it kills and it destroys. It leaves us vulnerable to damage and then the perdition never ends. 'The Mahzur,' reminds you of a simple fact, If it is forbidden, It will Bleed... The Al Nafud is not just another dessert. It is an amalgamation of poetry and music in the right proportions but it has a heart of stone under that soft burnished gold skin. The sand dunes sing to your call as if a dozen tubas are blown in unison but it isn't a song for the faint of heart. It is unforgiving. Sarah, the lovely daughter of the Al Janubis is engaged to be married to another man but this doesn't deter Ahmed from falling for a woman whose clan he has abhorred all his life. And when kismet trudges them towards an unlikely path through its bosom, does the Nafud forgive them for this mistake or does it unleash a fury unheard of in Janub as Sehra, their native land? I bring to you a love story from the wildest and the most beautiful desert of the Middle East. It is a story of love and loss for where there is great love, the loss, invariably is greater.
---
Details
Publisher
Lieper Publication Mir Raafiyah Verified Buyer
I think five stars aren't enough for you and your writing..... This book is really I can say wonderful.... I almost used to read this book more than 10 times because I love it.... Mir Raafiyah Verified Buyer
I think five stars aren't enough for you and your writing..... This book is really I can say wonderful.... I almost used to read this book more than 10 times because I love it.... Nuhaiz Siraj (Iran) Verified Buyer
The Mahzur took me to another land, a land that is very different from mine in topography but very similar in culture. I could relate to the pain that the couple was going through. I could relate to the family's loss and Yehya's tears. The way the author has portrayed the culture is extremely well done and I could not keep the book down after chapter 11. The end came as a surprise that I had never anticipated. This book deserves to be a bestseller. Congratulations to the Author for writing such a beautiful book. I will be looking forward to her other works. Tayyaba Shabir (Pakistan) Verified Buyer
I finished it. In the end, I am feeling sad. You have magic in your hands. Your writing style is so beautiful. You spread the magic of your writing on readers. That's why I am saying, it's like magic. Secondly, this story is a good lesson for youngsters who think that love is just like a fairy tale and after running away from home you will be happy ever after. How beautifully you have described every situation. And yes, we can't hate Talal! At one time I thought that Talal is the real Hero. You have pointed out the negative things of our society so well. Congratulations for a wonderful novel. An unforgettable book Dr. Bashir Chalkoo Verified Buyer
The Mahzur is a beautifully crafted idea for a thriller,an intense love story as if real,that carries the reader along with all the lovely characters through the journey in the desert.As the intensity of the love story grows, unexpected hurdles come in the way.The egoa d the culture of clans of the desert has no place for such love and emotion. This reminds us of greatest love story of "Laila & Majnu". There is suspense till the very end,whether Sarah and Ahmed could manage an escape but i think that the end is heart breaking but beautifully justified with regard to the title of the book " if it is forbidden it will bleed" last but not least various words from the arabic language have been beautifully incorporated .In the end i feel it is a perfect and beautiful love story which has left a definite and memorable mark..! congratulations Dr.Henana Berjes for such a wonderful book.. Dr. Hasina Qari Verified Buyer
And they lived happily ever after, somewhere. InshaAllah. I prayed once I finished reading the book. I could not have longed anything else for them. A love story as pure as a starry night in the desert, as sacred as the desert wind, breathtaking as the storm. Enchanting as the desert landscapes. Unconventional and idiosyncratic. Subtle yet strong. There is a strange inclination towards this ordeal . You can decide when to open the book but can't resist the temptation to keep going ...... Picturesque description of the place; the events and characters makes you one of them, as if it is happening right now right here Kudos to the writer. She makes You live every moment of it; witnessing everything around. At certain point in the story one feels that "this is not fair"; then and there ,I recommend to take a pause and come out of the Nafud desert and look around the world. life is not fair, it is unfair for almost each one of us. After all the writer has named it "Mahzur" and in her own words " if it is forbidden, it will bleed" and " with great love comes great pain" Lisa (USA) Verified Buyer
I love books that give me a glimpse into other cultures and new worlds. The Mahzur contained such beautiful descriptions of the country that at times, I felt like I was standing in the desert with Sarah and Ahmed. The story is well paced and I soon fell in love with the main characters. If you're a fan of Romeo and Juliet you will definitely enjoy The Mahzur. Katie Lewis (USA - Author of Seventeen Bestseller) Verified Buyer
The Mahzur is very much a "Romeo and Juliet" story. Our main characters are from warring clans, and when fate and chance give them a glimpse of each other, they are doomed to fall hopelessly in love. And while it is romantic and you will root for your heroes, make no mistake: it is doom. As with Romeo and Juliet, this book doesn't have a happy ending. It reads as a warning, a fable to those who might think that love is worth risking everything for, as if told from a person who believes that is foolish. But like Romeo and Juliet, this book is terribly romantic at times. One of my favorite scenes from the book is when our hero and heroine finally meet up and have time together. The hero gives his love a bottle of her favorite perfume. ___ "How did you guess?" "I don't need to guess things about you, Sarah. I have you memorized by heart." ___ It's so sweet! His love for her, her love for him, it is a beautiful thing. But horrible things also happen. In the first few pages, the author mentions how the Middle East is a culture shock to most Westerners. I am a Westerner, and there was a good amount of culture shock in this book. Most notably, 1) public beheadings in the town square, 2) the fact that a woman can be abducted and have her fiancee cancel the marriage within hours because it's presumed she has been raped, therefore she is unmarriable, and that her abduction will bring shame to her whole family. For a Westerner, this book will read like two books: a fairytale set a thousand years ago in an age of arranged marriages and clan wars, and a thoroughly modern retelling of an iconic romantic tragedy. It was a very interesting experience to read this book. I have to knock off a star because of some editing/grammatical issues. * There were several instances when words blended togetherlikethis. * Things were often incorrect with dialogue. For example, it might read: "Like this". He said * There was a good amount of in-scene 'head hopping' when we are reading one character's POV and suddenly, without warning, we are reading a different character's POV. * And finally, (though this was actually charming at the same time) there were some instances of English phrases being used not-quite correctly. "A bowl of popcorns" "hadn't slept since ages" and "red flag signs" Perhaps what I enjoyed most about this book was the glimpse into Arab culture. The author uses many words that I'd never heard before, but helpfully provides an index in the back that makes it easy to learn. But it is also beautifully written. I highlighted many beautiful passages that read like poetry. Dr. Redecca Verified Buyer
I liked the story. It seemed a little hard for me to imagine Sarah just falling for Ahmad looking at his picture. The love that can leave everything behind for that one person. The violence that erupts after their leaving is horrid and not necessary. But the culture is different, so it's not that hard to imagine. One place where the culture hasn't changed at all is here. Talal killing them, in the end, was a very bad move. He is not God and he had no right to decide. This story will take some time for me to forget One person found this helpful Masood Hussain Verified Buyer
Every lover considers his/her love story to be the most tragic. The Mahzur compels them to think twice. A love story is written with heart and soul....if it is forbidden, it will bleed...phew!!!!! Amazon Customer Verified Buyer
A love story, long overdue. Beautifully written. Emotions, anxieties, happiness one lives while going through Mahzur. Dr. Berjes seems to be a genius at depicting such a myriad of emotions and takes a reader through a journey expanding ones imagination. A beautiful read. Will definitely read it again Mehrul Verified Buyer
How I wish there was an escape for the two even if it was the most narrow one but then an immediate second thought was...two deaths RAPE, could they ever be happy after knowing all this....someone else had paid too heavy for their happiness...no love is important than a life moreover a sister's honor... I got too serious thank god it's just fiction...am not any novel reader at at all that too fiction...it was like I was watching some movie back of my mind...I could imagine everything every face except for ahmed... I don't know that typical novelish language of praise but why are you a dr by profession...you have done injustice to your passion Rehana Habib Verified Buyer
This book has left a mark for sure. It's one of a kind. The kind that impacts your life in a beautiful way. I went slow with this book at first but then everyday, I couldn't wait to get back from work and continue reading it. In fact, throughout the day I would wonder what will happen next. I think the details and emotions in it make you feel like you're the one who's living it and honestly, that's all you look for in a book. It felt like the emotion, the feeling, the Middle East culture and the events that are mentioned are happening right in front of you. It's a truly an epic piece of romantic art. Nadia Verified Buyer
This was the first time that I have ever read a book from the Middle East and that too a love story. It is pretty interesting from the beginning and unfolds at a fast pace. You can't put down the book after a few chapters when the real drama enfolds. The suspense keeps you at the edge and all you'd crave for is a cup of coffee to pull you through the upheaval that ensues in the latter part of the book. I am new to the Arabic language and many words are totally new (read alien) to a Westerner. The Author has added a glossary at the end of the book, which, in case you aren't familiar with Arabic text, you'll have to use often. The language is fluid and easy. A great read if you want to know about other cultures. Yasser yousuf wani Verified Buyer
"The Mahzur" is a nothing less than a beautiful romantic thriller which feels so real that after some time one begins to wonder about its true origin. Has i actually happened somewhere ? And if so, could we still have such intense and difficult romance in a time when we are surrounded by so much of online social activity where we can't separate the real from fake. Going through the first part felt a little sluggish ,given the fact that I am more of a thriller loving guy. At a certain point it felt like I can't continue reading it for being purely romantic . But just then the story began twisting and turning so fast that the thought just vanished into thin air and I began reading uninterrupted for hours together. The characters came alive with full colours of varied human emotions. The romance part began to become more and more daunting in the face of these characters & feelings. The events that unfolded were spontaneous and left no room for monotony. One one side the romance kept me smiling while on the other the intrigue associated with its background kept me engrossed. Finally when felt I had actually guessed what would be happening ahead in the story, it was a sudden jolt to find that I was wrong and right at the same time. This was the time when finally decided had to read the whole novel romance or otherwise, didn't matter. Further reading was a delight and the climax, although realistic but relatable, was just perfect. To sum it all, if you are looking for a pleasant read with a mix of romance, thrill, good, bad, friendship and animosity on a leisurely day I would recommend "The Mahzur" Dr. Yasser Dr. Hina Bashir Verified Buyer
I began reading this book in the morning and had finished it by evening! What a sensitive portrayal of a love story and what deep understanding of life! Life is not a bed of roses and neither is love. Both are deeply tragic and perhaps, that's what makes them beautiful. Henana spins words like magic and that makes this book a beautiful and a compelling read. It will definitely be this year's bestseller. Mary Vee (usa) Verified Buyer
This contemporary tale took me to a land I have not yet visited, the Middle East. What I enjoyed most was learning about a different culture. The food, where families went on vacation, and expectations placed on family members only scraped the rich setting and characters in this story. As for the plot, Berjes crafted thrilling chase scenes, epic clan wars, survival in the desert, and revenge. The thread woven throughout is the bind that holds a family together. All characteristics of a fast-paced story. Ahmed's true love for Sarah, daughter from the forbidden clan, demands action if he hopes to woo her away from her betrothed before she is married. An action so powerful it could cost him everything. Great ending that is sure to surprise.