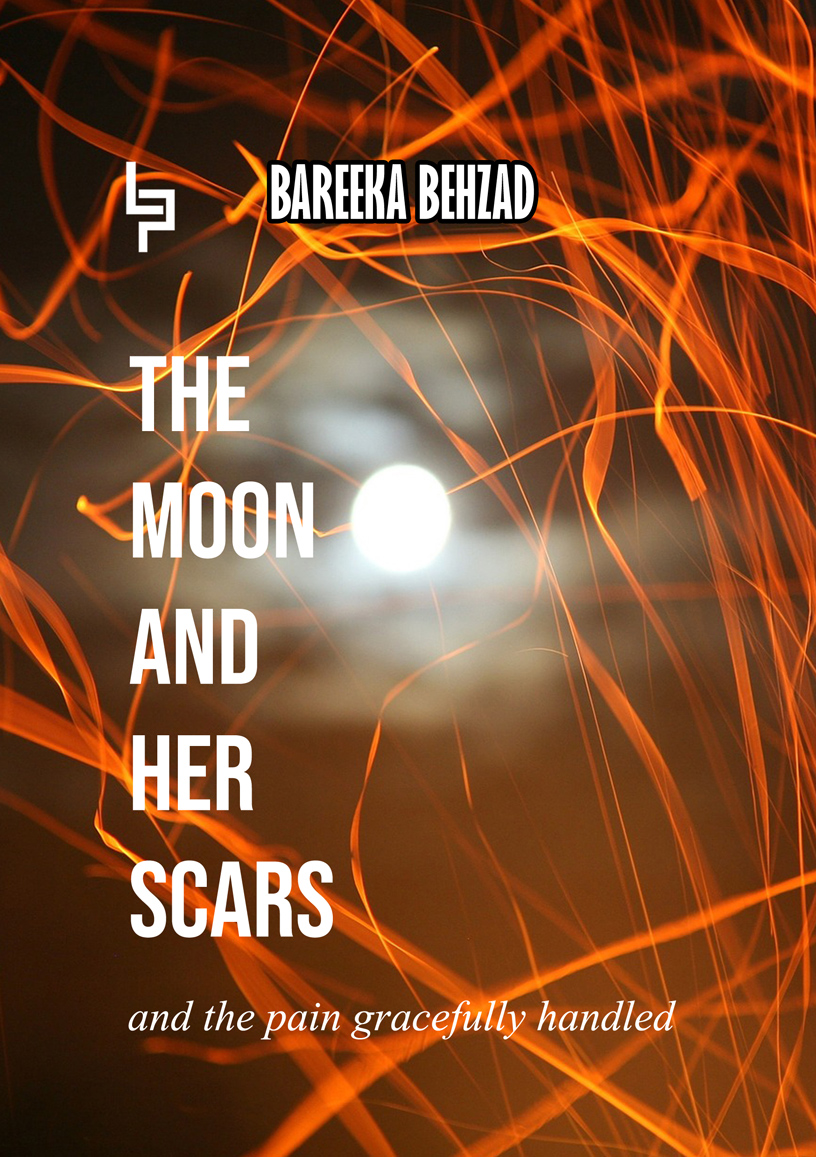 The Moon and her Scars
Bareeka Behzad
Poetry
About the book
'In the end, all I had was a peaceful soul with the imprints of yours, Enough for it, to carry on forever.' 'And just like the same; she too was redolent and lissome, So pure; so innocent; so bright, just like the lily white.'
---
Details
Publisher
Lieper Publication Sahiba Verified Buyer
I am really very proud to have a person like you in my life .The book is very good actually very very good .The poems are really very beautifully written .May Allah bless you with more and more success. bless up ❤️ Aisha Sameer Pandit Verified Buyer
Bareeka Behzad I picked your book by reading the blurb from your publishers Instagram account and your lines on the blurb lured me enough to buy the kindle version of your book since I'm in UK rn. Anyways I loved your way of expressing. Beautiful book. My rate to it is 5 STAR.. All the love to you. Shaista Mirza Verified Buyer
Oh you little one; you have my heart 💜 beautiful book. Princess Sparkling Verified Buyer
Even if I use my best words, those won't be enough, her work is just W O W, at first I did knew that she was young, but when I did some research, and found out that she is just in 8th grade, I was simply shook, and I didn't even believe that she was just in 8th grade, but astonishingly, she is just an 8th grade. Many people have talent like this young one, but only few choose to show their talent, and we should all be inspired by this little girl. The words that she chose are just, amazing, she put her words so thoughtfully, and she knows what she wrote. Every poem has something in it. This girl is too amazing, I would really love to meet you, and remember that, your fans (I know you got some), will always support you and Almighty Allah will always help you in your difficulties. Best Wishes from Me ~Princess Sparkling Princess Sparkling Verified Buyer
Just one word, WOW, at first I knew it was written by someone young, but... when I did some research and got to know that she is just in 8th standard, I was just shook, I couldn't believe this, her words are so thoughtfully put, she knows what she wrote. Many are talented like this young one, but some choose to show that, reveal their talent, and she is one of them, I an really a fan of yours from now on, I will support you everyday. Every poem had something in it, looks like she is going through some depression, but don't worry, you got yourself some pretty good fans, they will support you and of course, All Mighty Allah is always there for you. Just keep doing, you are amazing, I know its early but, I'm eagerly waiting for your next book. Best Wishes from me ~ Princess Sparkling Dr@shah Verified Buyer
This book is worth a million dollar.I appreciate the work of it's author .This much of maturity at this young age has capability of doing wonders in future.stay blessed and wish you all the success.❤️ Farah Verified Buyer
Umm... I am speechless to see such great talent from such a young student. And i am proud to say that I've read every single poem in this book of yours and I'm absolutely in love with it. Bareeka, Ive never met you, but i hope we meet soon, because i want to see the person who touched my heart through just mere but meaningful words. God bless you. Keep working hard. God will definitely bless you with success. Zia Bhat Verified Buyer
Indeed this little author deserves standing ovation (at least from me) Some of the poems connected with me. Will take your signature someday on my copy, little one. God bless you. Keep writing. Ayesha Shaukat Verified Buyer
Wow! Just wow! I loved it...The choice of your words is amazing... I really enjoyed this work of yours...Looking forward to read and enjoy more books written by you..Keep up the great work...Wishing you the very best for all the new ventures and success in everything you do...Rise and shine❤ ZAINAB Verified Buyer
Such a great work.... each nd every word gives so much to feel.... Looking forward to read more books of yours...you deserve much success....keep faith on your abilities ...you'll just shine brighter and brighter. Best wishes for future . Great Work Verified Buyer 😌the writing is ❤️ Verified Buyer