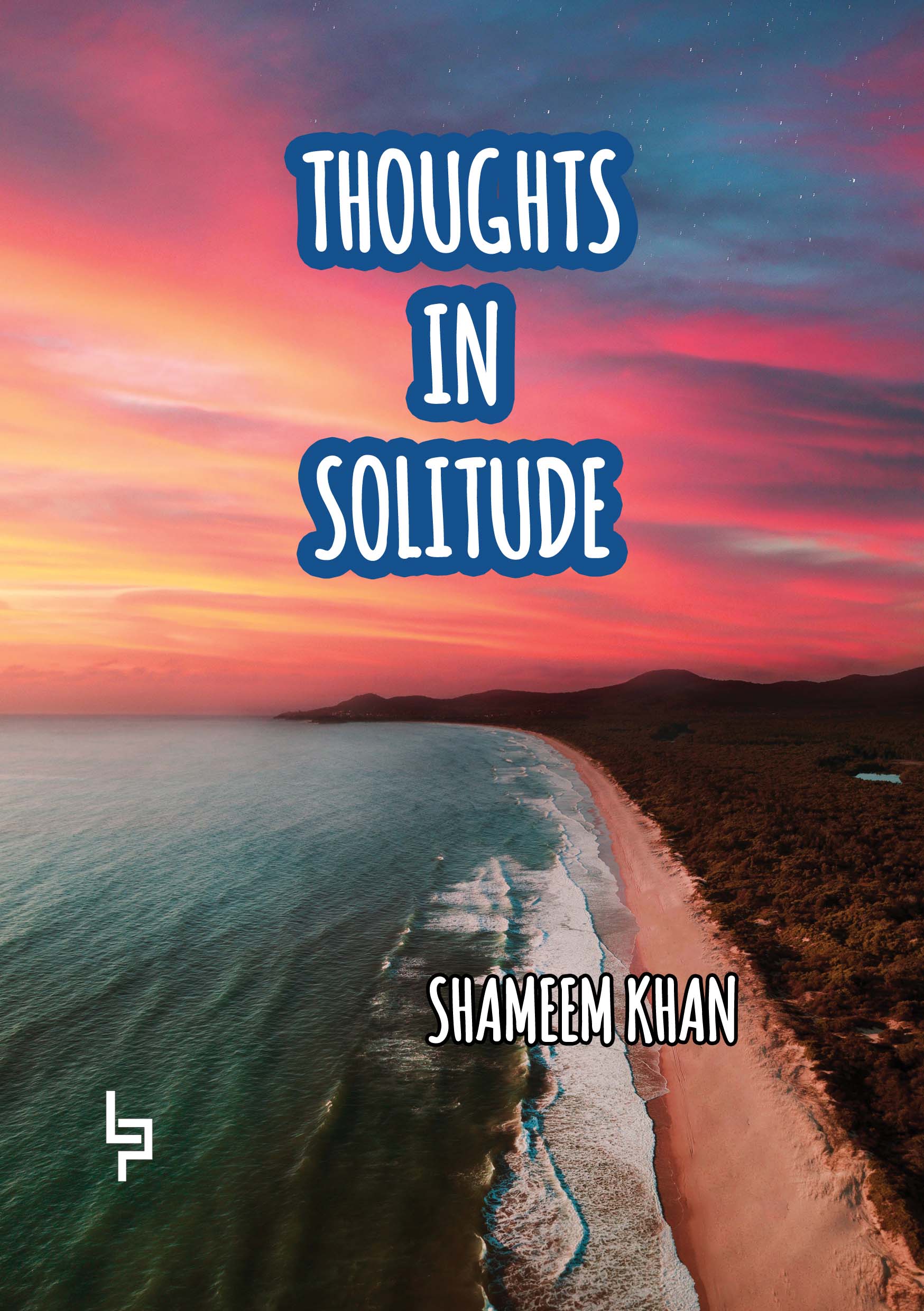 Thoughts in Solitude
Shameem Khan
Poetry
About the book
Thread the needle, Weave the beads. Black, white, wheatish (human colors) All in one. The peace on the planet Will be done. All hatred from the earth will be shun. Tranquility and calm will prevail, When the shoulders will be made Free from the gun. Racism and casteism will be none. Grief, sorrow, and doubts Will be on the run. Thread the needle, Weave the beads, Shun the gun, And be one.
---
Details
Publisher
Lieper Publication
Book type
Color - Paperback Keerthana Chris Verified Buyer
Hello everyone. For a very long time, I have been looking for books with some individuality and originality. I've read a lot of books, so it's fortunate that I learned about this one through an old friend in Bangalore, whose innocent daughter urged me to read it. I fall in love with it right away. There is a lot originality with it book cause it paints a picture for one. Thank you. Anvita Rai Sejal Verified Buyer
For me personally, this book has deep emotions attached to it. The poems in it are justified in such a way that it gives a sense of pleasure when you read and think about them. Words can cure things. Keep curing people dear writer. God bless u and your family. Aaliya imran Verified Buyer
There is a quote, "Books are a uniquely portable magic." This quote suits this book well. heartiest congratulations to the writer of this book. Would like to read more books. Noora Verified Buyer
About this book is something special. I have liked it more then many poetries that i have come across, as i have observed that in poetry writers in general nowadays just write about love and thus it have less scope of philosophy and life in general so that why I wrote this review here to let people know that this book has wide range of topics that are discussed and beautifully explained. Enjoyed reading it. Kounsar Jan Verified Buyer
I am going to write a very different review here. When i read this book "Thoughts in solitude" i came across few poems that made me emotional like "A bride with a rose petal, Marina, Thus spake Asifa from her grave, the sweet little fairy Asifa, Iqra- a girl so slim and shy" These are so emotional. As a mother of 2 beautiful daughters. It touched my heart. God bless you shameema khan. Beautiful book. Payal Shrivastav Verma Verified Buyer
This book gives one peace and harmony. It has so many beautiful poems in it. I recommend this book to people who take words seriously and to heart. It will touch your heart like it touched mine. Thank you. Nakul Shivam Varma Verified Buyer
In Delhi, a very good friend Faheem, gave me a copy of this book and asked me to write a review and be really honest about it. After working in the corporate world for so long, it's strange for me to read poetry because it's not my genre and I don't get many book offers. Now, as I was returning to Bombay. I read this book on the aircraft, and I started reading it quickly because that's how I imagine poetry should be read. You go quickly and then come to a halt when you come across a fascinating line. I started reading this book the same way and i was in my halt from third page. This book is straightforward, sensitive, and profound. It gets 5 stars from me here. Good luck to you Shameem Khan. Thanks for sharing your poetry with the world. Anjum Rizan Verified Buyer
To my surprise, I went to meet my colleague and her daughter had this book on her Kindle and she was talking to her mother about it. She offered me to read some pages and while reading, i felt the words, and i bought the book there. After reading it I was deeply fascinated with some of the poems. It has been a long time since i had read anything other than banking books, but now I regretted why i had stopped. I wish the author all the happiness and success for writing such a deeply poetry piece, looking forwarding reading her next book. Tabia Rafiqi Verified Buyer
This book has some powerful poems. I like some on society. This is pretty interesting read I would say. Simple and elegant. Some poems are with so much of innocence. I also happened to observe that Shameem Khan's writing style is unique in every different poem. God bless her. Nighat Rehman Verified Buyer
I am writing this review because Shameem Khan happened to be my teacher. When i saw this book and read it, i could totally relate with it because of her behavior and how innocent and honest of a person she was to us back those days. These poems are beautiful. When sometimes soon i come to Kashmir, i wish to see her. My all the wishes to her. Thank you. Shweta Nia Singh Verified Buyer
This book is recommended if you're looking for solace (The poems are not packed with any tension). I admire the aesthetics and the honesty of the whole effort. It is overall a pretty read. Good luck to her. Dr. Hina Bashir Verified Buyer
Want to give a special review to Shameem Khan's book "Thoughts in Solitude" oh my goodness what beautiful poems. I want to specially mention the titles of my favorite poems: "A half hidden rose, Sun chasing the moon, Friday noon, Pearly tears, Thread the needle and The sweet little fairy Asifa" This book is a treasure, I am so glad to have found this book on kindle, publisher by our kashmiris growing publishing Lieper Publications . My whole heartedly congrats to Ms. SHAMEEM for this masterpiece, loved it. Asked my son to also read it so they get some lessons :) Wishing her health and hoping that this review reaches to you with all the love and admiration from Canada. Keep writing, thank you. Qubra Majeed Verified Buyer
The thing about this book is it actually touches every part of reader and best part is every poem leads to divine love, peace, life! I wish more success to author! Niffat Shah Verified Buyer
One of the best book... Unique n heart touching poems once u will read it u too will learn lot of things.. This book is definitely originating from experience. Melina Gill Verified Buyer
I want to say that I loved it. This book touch issues of real life. I read a poem "Black lives matter" that was beautiful. I appreciate how these young by heart authors are coming up and their part of life and experiences. I am going to give this book 5 STARS for sure. Sana mirza Verified Buyer
First of the language is mesmerising. When I read this book, the experience felt equal to meditation in some poems. These poems are filled with wisdom, experience and contain the emotions which has the power to touch one's heart. Beautiful book. Qubra Rahman Qadri Verified Buyer
I read this book twice. I feel so strongly about some poems like "NOTHING BUT A LEGACY, GIVE ME SHELTER, WATCHING FROM THE WINDOW, BLACK IS BEAUTY, WHAT IF I WERE A, I CAN'T BREATHE" okay so honestly i loved the whole book. The concept and the words are so strong. This book is a powerful book. I am sure that i am going to keep it forever with me. My huge love and hugs to the Author Shameem Khan. I hope you write more and more. Thanks. Mehak Peerzada Verified Buyer
"Thoughts in Solitude" is definitely going to be one of the beautiful poetry book I have on my bookshelf. This book has the power to make you cry and simultaneously heal you. It has a lot of emotional story. One should def. read it. I am waiting for her next book. All the love her. Iram Aayat Khan Verified Buyer
I read it three times and still can't get enough of this book. It has such beautiful background pictures that give a feeling as if the book is speaking back to you. Sandeep Shera Verified Buyer
What a wonderful book! It is truly a bundle of lessons. 5 Stars from me. Arbina Syed Verified Buyer
Very good selection of poems. I loved the poem "Mudhouse" most!!! Nisha Chowdary Verified Buyer
I'm so satisfied with this book really love it ❤️ Mehreen Showkat Verified Buyer
I could not place into any genre but the book has a poetic touch and the book was totally about words and the thought. Loved it Neelofer Khan Verified Buyer
Dear Shameem, Going through the poems i couldn't help but wonder if the writer is really my sister- the one who is so simple & shy. To realise she has such ideas, such creativity, and such a talent for expression, has truly been a revelation. Each poem is powerful, and ripe with emotion. The way you have penned them down with such grace & colours, a person is transported deep into thought, to live the scenes you have created with your articulation. Some images that have left a lasting impression on me are The Mother with her unadulterated love for the child The Beggar which makes us realise that as humans we are always dependent in one form or another. Such a touchy subject which makes us empathize, rather than restrict our feelings for them to sympathy. Mud House makes me confront my inhibitions and discomfort, and encourages me to resist them with hope and prayer. The fable of the Cat and Crow which emphasizes the beauty of innocence. Kudos my sister, your work deserves lots of applause. And the gesture of dedicating this piece of literature to our beautiful & loving mother has impressed me. I am honoured to have the booklet and to go through its pages. Please convey my regards to the publisher for such lovely & impressive work. Keep it up sister... Your sibling Neelofer. Zehra Mushtaq Verified Buyer
So elegant, yet simple to read and comprehend. Great work! 5 from me!! Zubaida Anjum Verified Buyer
The poet has beautifully expressed the passion of love for nature. Zareen Akhtar Verified Buyer
I am truly grateful to the author for writing such a great and amazing poemS. I could relate to many of them. Mehraan Mutahar Verified Buyer
This book explains the beauty of nature, simplicity, and racism in such a beautiful manner. Kudos to the Author Anuj Pritam Verified Buyer
This book explains how to tackle loneliness in a brilliant way (if understood with vision) I loved this book and I thoroughly recommend it. Beautiful poetry worth reading Verified Buyer Mahira Zayan Verified Buyer
I absolutely loved reading this book. I was engaged in every poem by the author. Kuddos to the author. Seema Rehman Peer Verified Buyer
I am so fascinated by the simplicity of every single poem. It is a must-read. Ziya Tara Verified Buyer
The storyline in every poem, itself was lovely and complete in the various facets of observation. Amazing book Indeed!